265 Feature Films Eligible For Oscars, Original Song Short List Revealed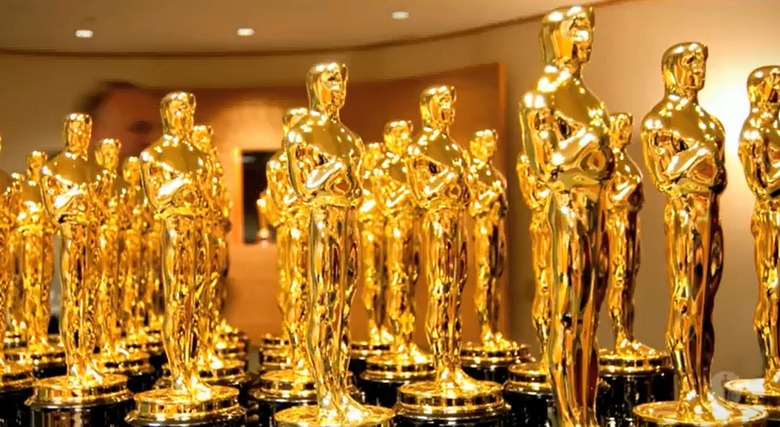 Oscar nominations are just about a month away and Academy voters are, hopefully, working on seeing as many films as possible in the categories they're responsible for. Final word has come down that 265 films total are eligible for awards this season, everyone from Abduction to Zookeeper. It was also announced that 39 songs are eligible for the always controversial and entertaining Best Original Song Oscar, including three songs from The Muppets, one from Captain America: The First Avenger, one from POM Wonderful Presents The Greatest Movie Ever Sold and many more. Read the full list and rules of eligibility for each category after the break.
Deadline posted the press releases for these piece of news here and here.
The 265 films that are eligible for Oscar nominations adhere to these guidelines:
To be eligible for 84th Academy Awards consideration, feature films must open in a commercial motion picture theater in Los Angeles County by midnight, December 31, and begin a minimum run of seven consecutive days. Under Academy rules, a feature-length motion picture must have a running time of more than 40 minutes and must have been exhibited theatrically on 35mm or 70mm film, or in a qualifying digital format. Feature films that receive their first public exhibition or distribution in any manner other than as a theatrical motion picture release are not eligible for Academy Awards in any category.
If you'd like to see the full list, you can check it out at this link.
And while 265 films are eligible, we all know the reality is only about 20 have a legitimate shot at a nomination and, of those, maybe 10 can actually win. That's really only about 5% of the films.
On to the songs that are eligible for the Best Original Song. The guidelines are as follows:
A song must consist of words and music, both of which are original and written specifically for the film. A clearly audible, intelligible, substantive rendition of both lyric and melody must be used in the body of the film or as the first music cue in the end credits.
In addition, there can be between 2 and 5 nominees, depending on how the Academy members grade them. So anywhere from two to five of these 39 songs will be up for it at the Oscars:
"The World I Knew" from "African Cats"
"Lay Your Head Down" from "Albert Nobbs"
"Star Spangled Man" from "Captain America: The First Avenger"
"Collision of Worlds" from "Cars 2"
"Dakkanaga Dugu Dugu" from "DAM999"
"DAM999 Theme Song" from "DAM999"
"Mujhe Chod Ke" from "DAM999"
"Rainbird" from "Dirty Girl"
"Keep On Walking" from "The First Grader"
"Where the River Goes" from "Footloose"
"Hello Hello" from "Gnomeo & Juliet"
"Love Builds a Garden" from "Gnomeo & Juliet"
"Bridge of Light" from "Happy Feet Two"
"The Mighty Sven" from "Happy Feet Two"
"Never Be Daunted" from "happythankyoumoreplease"
"Hell and Back" from "Hell and Back Again"
"The Living Proof" from "The Help"
"Coeur Volant" from "Hugo"
"It's How We Play" from "I Don't Know How She Does It"
"When the Heart Dies" from "In the Land of Blood and Honey"
"Ja Nao Estar" from "José and Pilar"
"The Keeper" from "Machine Gun Preacher"
"Life's a Happy Song" from "The Muppets"
"Man or Muppet" from "The Muppets"
"Pictures in My Head" from "The Muppets"
"Summer Song" from "The Music Never Stopped"
"Imaginary Friends" from "Olive"
"Sparkling Day" from "One Day"
"Taking You with Me" from "Our Idiot Brother"
"The Greatest Song I Ever Heard" from "POM Wonderful Presents The Greatest Movie Ever Sold"
"Hot Wings" from "Rio"
"Let Me Take You to Rio" from "Rio"
"Real in Rio" from "Rio"
"Shelter" from "Take Shelter"
"Gathering Stories" from "We Bought a Zoo"
"Pop" from "White Irish Drinkers"
"Think You Can Wait" from "Win Win"
"The Backson Song" from "Winnie the Pooh"
"So Long" from "Winnie the Pooh"
I'm really pulling for The Muppets, just because those songs truly stood out to me, but since the Golden Globes didn't give them any love, I think they might be a long shot.
Oscar nominations take place January 24 and the awards themselves are February 26. You can read about the animated and documentary short lists for 2011 at those links.