How Do I Know If My IMAX Theater Is Real 70mm IMAX Or lieMAX (Digital IMAX)?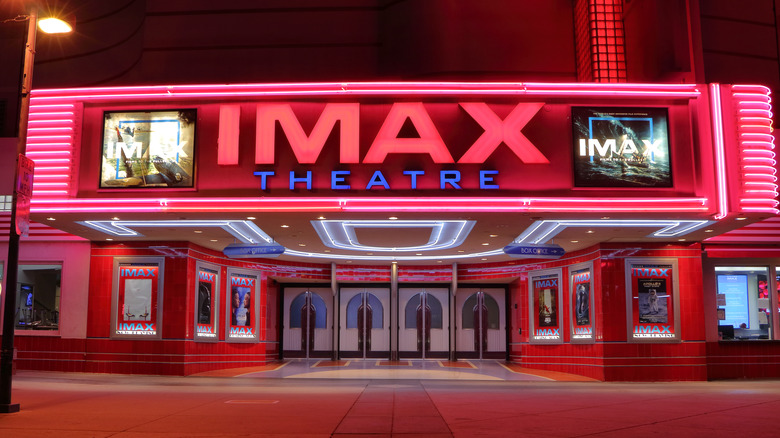 imageAllan/Shutterstock
As Hollywood has become obsessed with 3D, some filmmakers are embracing an entirely different experience — IMAX. Brad Bird's "Mission: Impossible — Ghost Protocol," for example, featured 23-minutes shot with 15-perf 70mm IMAX cameras. Similarly, the much-anticipated "The Dark Knight Rises" featured nearly 50 minutes of full IMAX footage. There is no denying that the IMAX shot footage looks breathtaking, and having the image expand to the full IMAX screen results in an experience unlike anything else.
So the question is: Do you know where to experience these films in full 70mm IMAX? Or have you been watching Digital IMAX, known to most film geeks as "LIEmax"? Because the difference can be EVERYTHING. We will explain the difference, chronicle the history, and answer the question right now.
A brief history of 70mm feature films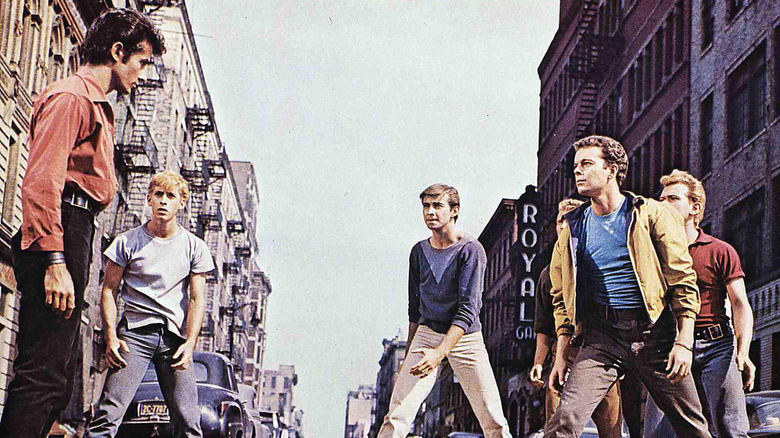 United Archives/Getty Images
You might recall that classic movies like "Lawrence of Arabia" and "West Side Story" were shot in 70mm on the Super Panavision 70 camera and projected in 70mm at special roadshow screenings. In the 1970s, the IMAX corporation developed a new way to shoot and project 70mm film run through the projector horizontally, so that the width of the film is the height of the frame. The result is a much MUCH larger resolution, from both 35mm film and even the old school "70mm."
With IMAX format, each frame is 15 perforations wide, and the area of the frame is about 52mm high by 70mm wide — almost 9 times larger than the conventional 35mm frame used in traditional movie theaters. While the aspect ratio of traditional movies is a widescreen (usually 1.85:1 or 2.35:1), IMAX is closer to that of a rectangle at 1.43:1. The IMAX format was originally found in museums and sometimes dome theaters. IMAX theaters began to expand in the late 1990s/early 2000s around the time that they developed the IMAX 3D format — it was something unlike what most people had even seen at their local movie theater.
IMAX goes Hollywood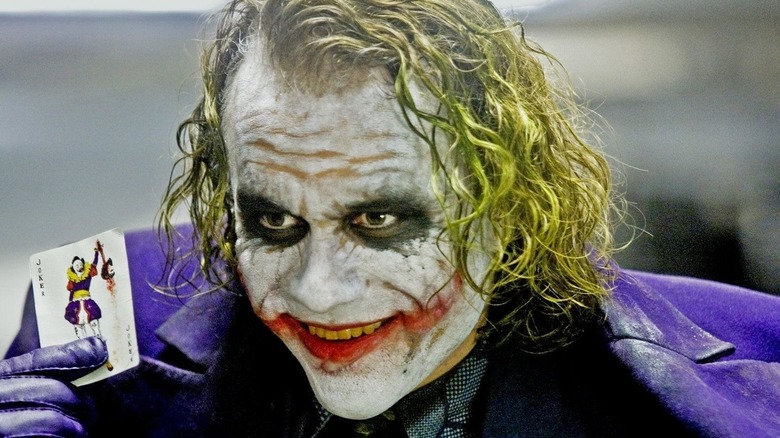 Warner Bros. Pictures
Around this time, in 2002, Hollywood began releasing up-conversions of movies in IMAX theaters. These up-conversions do not look anywhere as good as a movie shot in 15perf 70mm IMAX, but the argument is made that making a 70mm copy of the 35mm original looks better than a 35mm copy of a 35mm original as it loses less in the transfer and gains from IMAX's Digital Media Remastering system. Early IMAX up-conversions like the "Matrix" sequels and a rerelease of "Apollo 13" were considered successful, but the 2004 computer animated film "The Polar Express" in IMAX 3D was a game-winning grand slam (at least a quarter of the film's gross of $302 million came from less than 100 IMAX screens).
Warner Bros converted scenes from the "Harry Potter" films and "Superman Returns" into IMAX 3D, which proved very profitable. But Nolan's "The Dark Knight" was a game-changer, and the film's large format 33-week run grossed $49.9 million from IMAX venues alone — nearly 10% of the film's gross. The film premiered on 46 times that many standard screens (4,366 domestically).
"Mission: Impossible" had an exclusive release in IMAX theaters, grossing an amazing $13 million from only 425 screens. Hollywood is taking note, and I'm sure we'll be seeing a couple more tentpole films each year employ IMAX cameras in their production.
Enter IMAX Digital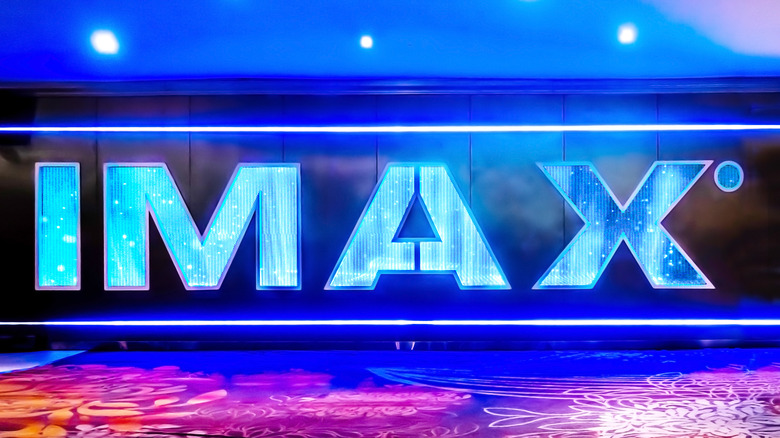 Nixx Photography/Shutterstock
The Hollywood success of IMAX resulted in even more expansion. But the 70mm projectors and huge box screens were found to be way too expensive to build in mass quantities. In 2008, the company began the rollout of its solution — a new IMAX Digital theater.
The 70mm projector has been replaced with two Christie 2K projectors which use proprietary image processing. The two 2k images are projected over each other. The resolution is estimated to be about 12,000 × 8,700 theoretical pixels or 6,120 × 4,500 actually discernible pixels. The resulting image is said to be brighter than the standard 2K digital cinema projectors in most cinemas. While IMAX believe their IMAX Digital system offers a sub-pixel accuracy that looks better than Sony's 4K projectors, there are a lot of vocal critics. The sound system is also much improved from a standard cinema set-up, able to reach up to 14,000W, and offers 117db of uncompressed digital sound without distortion. IMAX also claims that they have devised a way to provide better surround sound to all areas of the theater, including the very back, but critics have not found that to be true.
The system was designed to be installed in existing multiplex auditoriums — moving the screen 30 feet closer to the audience, covering more space from ceiling to ground and left to right, which is said to be perceived as 75 feet wider than before. So while the screen seems much much larger than your normal multiplex screen, it still doesn't compare to that or a "real" 70mm 15 perf IMAX theater (see the image at the top of this article to see a size comparison).
Also the aspect ratio, 1.9:1, is much closer to that or a traditional movie theater (1.85:1) than a 70mm 15perf IMAX screen (1.44:1). So while the image on the screen should expand some during the IMAX sequences in films like "Mission: Impossible – Ghost Protocol," it is nowhere near as dramatic as a real IMAX theater. More subjectively, the lower resolution is not quite as breathtaking.
The problem with IMAX Digital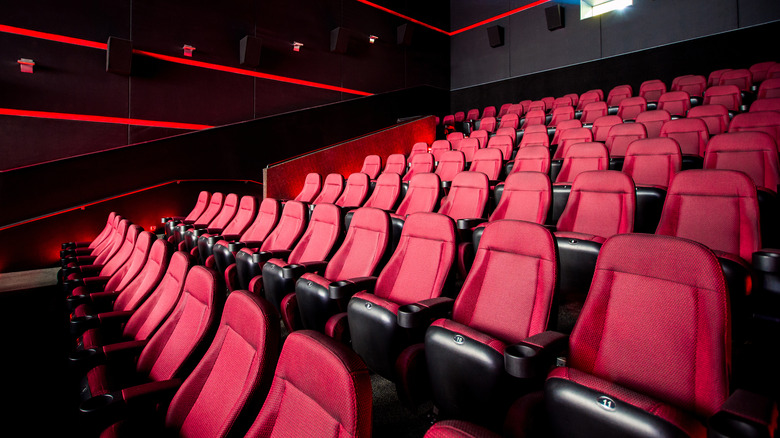 Wedding and lifestyle/Shutterstock
The big issue is that IMAX and theaters don't distinguish Digital IMAX theaters from the 70mm 15perf HUGE IMAX theaters. The ticket prices are the same, an estimated $5 more than a traditional screening. If this surcharge is worth it to you is debatable, but the fact that IMAX does not even let consumers know the difference is a travesty. They are completely different technologies, entirely different experiences, but they are marketed as the same thing — IMAX. In the past I have suggested that IMAX market and label the two types of theaters as IMAX Digital and IMAX Huge, but the company refuses to do anything about it. They're making tons of money. Why be honest to their customers? Most of them probably don't and won't know any better, right?
For me, the choice comes down to if the film features footage shot in 70mm 15 perf IMAX. Films like "Mission: Impossible – Ghost Protocol" and "The Dark Knight Rises" are a must-see in real 70mm IMAX. If you are not seeing the film on a real IMAX screen, you are missing a good chunk of the intended experience. I would never choose to see these films in a traditional theater or an IMAX Digital theater. I would strongly recommend driving to a real 70mm IMAX theater if it's even within an hour's driving distance as opposed to a Digital IMAX theater down the street. For these movies, the difference is huge, and it is worth it to seek out a real IMAX theater. There is a reason Christopher Nolan ONLY released "The Dark Knight Rises" prologue in real IMAX theaters. At a press event, he urged journalists to tell their readers to seek out the 70mm presentation as it provides an experience like no other.
Warning: Some Huge 70mm IMAX theaters have gone/are going digital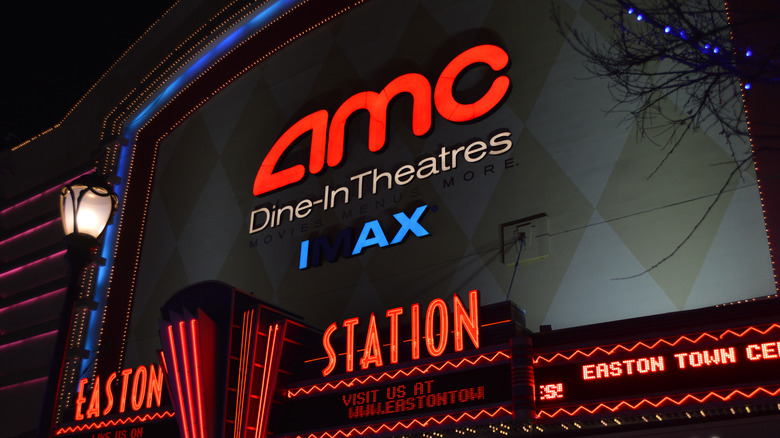 Eric Glenn/Shutterstock
What's worse is that some of the older Huge screen 70mm IMAX theaters are converting over to digital projection. Some Batman fans were surprised not to see their real IMAX theater on the list of 70mm screens showing "The Dark Knight Rises" prologue. This is the reason why. You can no longer guarantee that your movie screening will be projected in 70 mm by the size of the IMAX theater these days. While I haven't experienced one of these converted theaters, I can't imagine that the 2x2k digital projection on a huge old school IMAX screen would look bright enough to rival a normal cinema theater.
Disclaimer: IMAX Digital is NOT the devil; it's actually... (sometimes) great. Don't get me wrong — I don't think IMAX Digital is evil. The IMAX digital image and sound presentation is better than your traditional multiplex screen. I would see movies in IMAX Digital over a standard 2k digital movie screen if I were presented with those two choices. Especially with 3D movies, you will get a brighter, more immersive 3D experience.
How to find a real 70 mm IMAX theater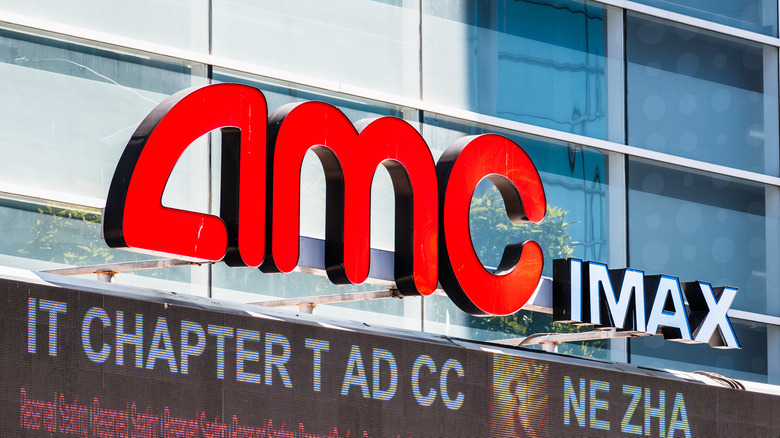 Sundry Photography/Shutterstock
When this article was originally published in 2011, 342 of the 430 U.S. IMAX Theaters were Digital. That meant only 88 screens were real 70mm IMAX. And many of those screens were attached to museums, and didn't show Hollywood movie releases. The "Dark Knight Rises" prologue was only available on 42 of those 88 screens. 
So how can you find the nearest 70mm IMAX theater to you? Well, someone created a Google Map listing the locations. Unfortunately, it was last updated in August 2009, but it should still provide a good jumping off point for dedicated movie goers seeking the ultimate IMAX experience:
View IMAX or LIEMAX? in a larger map
A list of U.S. IMAX 70mm movie theaters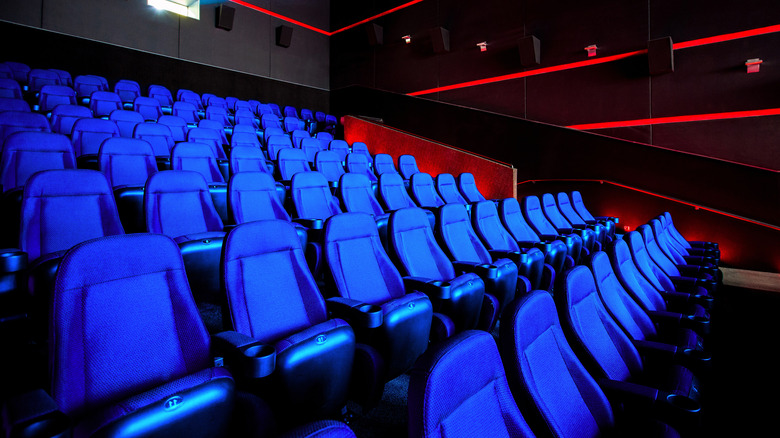 Wedding and lifestyle/Shutterstock
Below you can find a list of real 70mm 15 perf IMAX theaters in existence as of this article's original publication in December 2011, organized by state. Please note that some of these theaters are connected to museums and show only documentary presentations. Check your local listings to see if they screen Hollywood movies.
Alabama
Birmingham McWane Science Center (1998)
Huntsville U.S. Space and Rocket Center (1982)
Mobile Gulf Coast Exploreum Science Center (1998)
Arizona
Grand Canyon National Geographic Visitor Center at the Grand Canyon (1984)
Phoenix Arizona Science Center (2006)
Tempe Harkins Arizona Mills 25 (1998)
California
Cathedral City Desert IMAX Theater (1999)
Irvine Edwards Irvine Spectrum 21 & IMAX (2002)
Los Angeles California Science Center (1998)
Los Angeles Rave 18 IMAX (2010)
Ontario Edwards Ontario Palace 22 & IMAX (2003)
Sacramento Esquire IMAX Theatre (1999)
San Diego Reuben H. Fleet Science Center (1973)
San Francisco AMC Loews Metreon (1999)
San Jose Tech Museum of Innovation (1998)
Universal City AMC Loews Universal City (2000)
Connecticut
Norwalk Maritime Aquarium at Norwalk IMAX (1988)
Washington, D.C.
Washington National Air and Space Museum (1976)
Washington National Museum of Natural History (1999)
Florida
Fort Lauderdale Museum of Discovery and Science (1992)
Kennedy Space Center (1984)
NAS Pensacola National Naval Aviation Museum (1996)
Orlando Orlando Science Center (1997)
Orlando Regal Pointe 21 & IMAX (2007)
Tampa Museum of Science and Industry IMAX (1995)
Georgia
Atlanta Fernbank Museum of Natural History (1992)
Columbus National Infantry Museum (2009)
Iowa
Council Bluffs AMC Star Council Bluffs (2010)
Davenport Putnam Museum of History and Natural Science (2002)
Des Moines Science Center of Iowa (2005)
Illinois
Chicago Museum of Science and Industry (1986)
Chicago Navy Pier IMAX Theatre (1995)
Indiana
Indianapolis Indiana State Museum (1996)
Kansas
Hutchinson Kansas Cosmosphere and Space Center (1980)
Kentucky
Louisville Louisville Science Center (1988)
Louisiana
New Orleans Entergy IMAX Theatre (1995)
Shreveport Sci-Port (1998)
Massachusetts
Boston Museum of Science (1987)
Boston New England Aquarium (2001)
Natick Jordan's Furniture (2002)
Reading Jordan's Furniture (2004)
Maryland
Baltimore Maryland Science Center (1987)
Michigan
Dearborn The Henry Ford (1999)
Detroit Detroit Science Center (1978)
Minnesota
Apple Valley Great Clips IMAX Theatre (1997)
Saint Paul Science Museum of Minnesota (1999)
Shakopee Valleyfair Family Amusement Park (1982)
Missouri
Branson Branson's IMAX Entertainment Complex (1993)
Saint Louis Saint Louis Science Center (1991)
Montana
West Yellowstone Yellowstone IMAX Theatre (1994)
North Carolina
Charlotte Discovery Place, Inc. (1991)
Nebraska
Omaha Henry Doorly Zoo (1997)
New Jersey
Atlantic City Tropicana Casino And Resort (2004)
Jersey City Liberty Science Center (1993)
New Mexico
Alamogordo New Mexico Museum of Space History (1980)
New York
Garden City Cradle of Aviation Museum (2002)
New York AMC Loews Lincoln Square (1994)
New York American Museum of Natural History (1982)
Syracuse Museum of Science and Technology (1997)
West Nyack IMAX Theatre at Palisades Center (1998)
Ohio
Cincinnati Cincinnati Museum Center (1990)
Cleveland Great Lakes Science Center (1996)
Dayton U.S. Air Force Museum Foundation (1991)
Oregon
McMinnville Evergreen Aviation Museum (2007)
Portland Oregon Museum of Science and Industry (1992)
Pennsylvania
Harrisburg Whitaker Center for Science and the Arts (1999)
Philadelphia Franklin Institute Science Museum (1990)
Pittsburgh Carnegie Science Center (1991)
Rhode Island
Providence Providence Place Cinemas 16 (2008)
South Carolina
Myrtle Beach Myrtle Beach IMAX 3D Theater (2007)
Tennessee
Chattanooga Tennessee Aquarium (1996)
Memphis Memphis Museums, Inc. (1995)
Texas
Austin Bob Bullock Texas State History Museum (2001)
Dallas Museum of Nature and Science (1996)
Fort Worth Fort Worth Museum of Science and History (1983)
Galveston Moody Gardens (1993)
Houston Edwards Houston Marq*e 23 & IMAX (2003)
Houston Houston Museum of Natural Science (1989)
San Antonio IMAX 3D Theatre San Antonio Rivercenter (2001)
San Antonio IMAX Theatre San Antonio Rivercenter (1988)
Virginia
Chantilly Steven F. Udvar-Hazy Center (2003)
Richmond Science Museum of Virginia (1983)
Virginia Beach Virginia Aquarium and Marine Science Center (1996)
Washington
Seattle Pacific Science Center (1998)
Seattle Pacific Science Center (1979)
Spokane Riverfront Park IMAX (1978)
Wisconsin
Fitchburg AMC Star Fitchburg 18 (2010)
Milwaukee Humphrey IMAX Dome Theater (1996)