James Bond Producers Want Daniel Craig For Five More Films?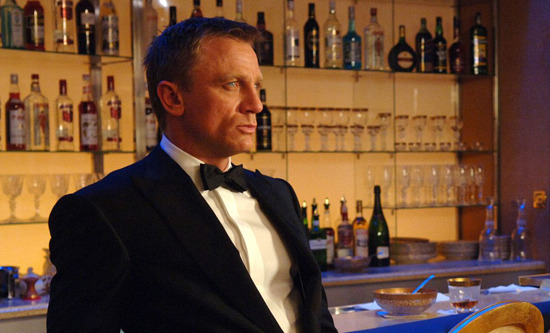 How good is Daniel Craig in Skyfall? So good that producer Michael G. Wilson reportedly wants Craig to play James Bond for another five films, bringing him to a grand total of eight. (Even if the lackluster Quantum of Solace makes it seem as if he's only done one so far, rather than two.) That would make Craig the longest-running Bond — if they can get him to sign.
The People, via MI6, reports that during an interview that gave a pretty featureless update on the shoot for Skyfall ("Daniel's been a terrific Bond, a superb actor and a terrific man") the producer said,
Filming has gone very well so far and I'd love Daniel to surpass Roger's record and do eight pictures. Daniel's been an absolute pleasure to be around because he takes the role so seriously. There's really no one more passionate about making these films work than him – he's a film maker's dream.
It isn't at all difficult to imagine why a producer might want Craig to sign on for the long haul — he's capable, multi-faceted, and popular.
The question is: does Daniel Craig want to do even one more Bond picture, much less five? Craig has said that he's willing to be Bond for quite some time, as long as he's physically up to the task, and the films are high quality. But an actor doing eight films in a demanding franchise — hell, in any franchise — seems even less likely these days than it would have twenty or thirty years ago. I can't imagine that in fifteen years we'll be seeing a new Bond film starring Daniel Craig.
Oh, and Wilson also had something to say about the nature of Skyfall:
The director Sam Mendes and Daniel are taking it back to a 60s feel – more Sean. I think that's what the fans wanted. There's a magical "Goldfinger" feel surrounding it all. It's all very exciting. I can't wait for people to see the movie because I think we're making a very special Bond.