First Look Footage: Ridley Scott's 'Prometheus' [Updated With Second Video]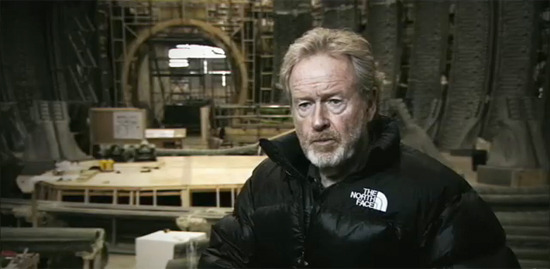 Well, this is a trailer for a trailer, but it still has some of the first footage most of you will see from Ridley Scott's Prometheus. This is some of the same video that was shown in Hall H at Comic Con this summer, with Ridley Scott sitting on a set that looks like it came right out of Alien. (And he is still trying to say that this movie is only barely connected to Alien!) There isn't much here, but I imagine it will be more than enough to get you excited about what we'll see when Prometheus really makes its grand debut when the trailer drops this Thursday. Hit the jump for the preview.
Update: There is a second preview video that seems like it was meant to arrive tomorrow, but which has been found online early.
So in this very brief glimpse of footage we hear music and sound effects from Alien, see what look like some very familiar set and costume designs, and what also appears to be an incident of acid dissolving someone's helmet — is Fox just playing up the connection to Alien, or is this just the beginning? See it in HD at Apple.
Update: the second trailer preview was found online early, via APN:
Prometheus is directed by Ridley Scott, written by Damon Lindelof and Jon Spaihts and stars Noomi Rapace, Michael Fassbender, Charlize Theron, Idris Elba, Sean Harris, Kate Dickie, Rafe Spall, Logan Marshall-Green, Guy Pearce, and Patrick Wilson. It will hit theaters on June 8, 2012.
Ridley Scott, director of "Alien" and "Blade Runner," returns to the genre he helped define. With PROMETHEUS, he creates a groundbreaking mythology, in which a team of explorers discover a clue to the origins of mankind on Earth, leading them on a thrilling journey to the darkest corners of the universe. There, they must fight a terrifying battle to save the future of the human race.