'The Dark Knight Rises' Theatrical Trailer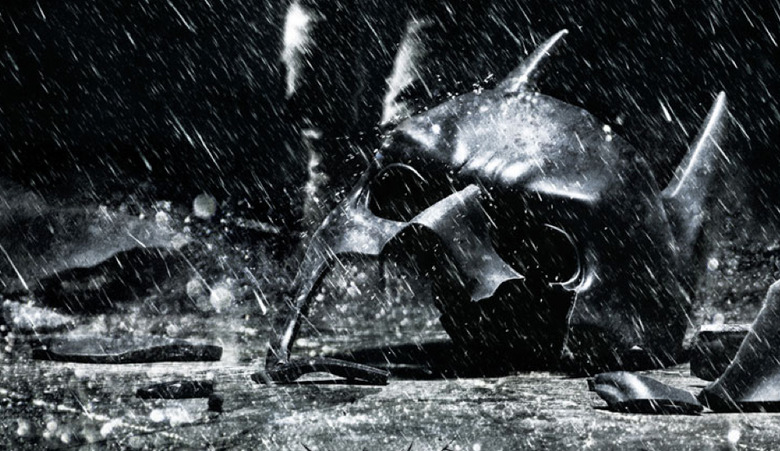 Stand up, remove your caps and pay respect to the theatrical trailer for Christopher Nolan's highly anticipated conclusion to the Batman trilogy, The Dark Knight Rises, finally online in an official form. This extended glimpse into the July 20 release includes none of the prologue footage that wowed audiences in IMAX, instead focusing on a rising tension in a peaceful Gotham City that will throw characters played by Christian Bale, Tom Hardy, Anne Hathaway, Gary Oldman, Michael Caine, Joseph Gordon Levitt, Marion Cotillard and Matthew Modine into the fight of their lives. They all appear in this trailer, along with Pittsburgh Steelers wide receiver Hines Ward in a football scene that looks beyond massive.
The time has come. The fire rises. Check out the trailer below.
Thanks to Apple for the trailer. Head there to watch it in HD and here's an embed.
If you were lucky enough to catch the first six minutes of The Dark Knight Rises in IMAX, this trailer might feel slightly underwhelming.  But not in a bad way. The scope of that first scene is pretty incredible and while you feel size in this trailer, it's more about the size of the story. Nolan stays away from a lot of huge money shots and instead opts for a more pensive, slower trailer, beginning with the National Anthem and giving us just a taste of how Gotham City has changed since the end of The Dark Knight. Bruce Wayne looks out of place, Commissioner Gordon has fallen out of favor, Selina Kyle has something bad on her mind Bane has a master plan that includes putting a huge crater in the middle of Heinz Field. What the heck is going on there? Did you think those effects looked good?
The best thing about this trailer is that it shows all new footage but doesn't give away anything. Can you legitimately tell us what is happening in this movie after watching these two minutes? Probably not. And that's what a trailer should do.
Did this trailer live up to your high expectations?