Synopsis For Alfonso Cuarón's 'Gravity' Whets Our Appetite For The Sci-Fi Survival Thriller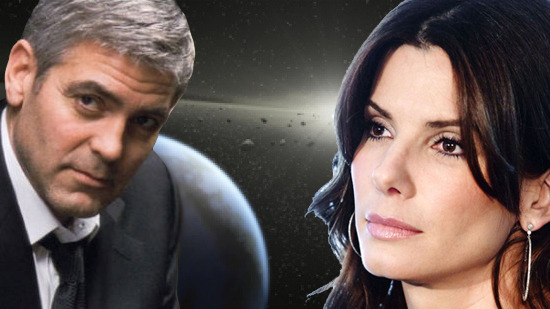 There was a lot of public talk about the casting process for Alfonso Cuarón's film Gravity, but once the cast was locked down — Sandra Bullock and George Clooney are the two key players — the film went pretty quietly intro production and we've heard little about it since.
The film is in post-production now, and there could be a way to go yet, as the film is said to be heavily based in CGI, potentially with only a handful of 'shots' making up the final cut. Those shots would be like the famous car sequence from Children of Men — that is, smaller shots digitally stitched together to look like one continuous take. Still, the prospect is appealing. So check out the current info on the film below.
JoBlo has what the site says is the official plot description of Gravity, and while that sort of thing usually isn't all that interesting, this recap confirms a few things we'd heard about the story, and offers a couple other details.
Sandra] Bullock plays Dr. Ryan Stone, a brilliant medical engineer on her first shuttle mission, with veteran astronaut Matt Kowalsky [George Clooney] in command of his last flight before retiring. But on a seemingly routine spacewalk, disaster strikes. The shuttle is destroyed, leaving Stone and Kowalsky completely alone–tethered to nothing but each other and spiraling out into the blackness.
The deafening silence tells them they have lost any link to Earth...and any chance for rescue. As fear turns to panic, every gulp of air eats away at what little oxygen is left.
But the only way home may be to go further out into the terrifying expanse of space.
Since we've got nothing else to show related to Gravity, this is the place to revisit some good quotes from the past few months. Earlier this year Gavity producer David Heyman said,
We're using technology that's never seen before. This film will be more immersive, I believe, than anything you've seen before. You will really feel like you are in space. It will not be an objective view of space, it will be an immersive view of space. And you know as you say, with Children of Men, he loves these long shots. It's gonna be a really bold, bold film.
And Guillermo del Toro said of the film,
I think he would kill me if I reveal [what is so crazy about it], and in time it will be publicized, but I think that in the same way that he pushed the narrative in Children of Men...[they] are absolutely pushing a new boundary in filmmaking, completely mind-blowing. And they way they're making [Gravity] will I think foverever change certain types of productions. The engineering and the ingenuity of the machines they've created to film that way is fantastic. I"m amazed at Alfonso in the last few movies, because he has completely transformed himself.