Axe To Axe! First Look At Sylvester Stallone In 'Bullet To The Head'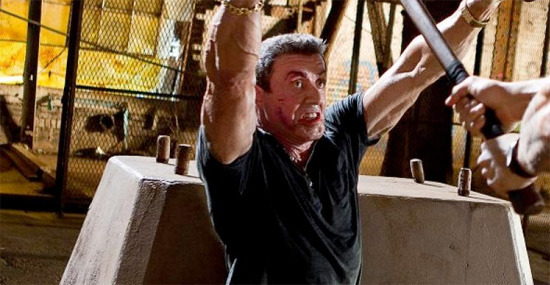 Sylvester Stallone is really back in action this week, with that teaser trailer for The Expendables 2 and a poster to go along with it. Sly even gets to hold down the poster solo, despite the fact that the whole selling point of The Expendables 2 is that it is an even bigger action ensemble than the first.
Now here's a look at the aging action star in Bullet to the Head. The movie is the return of action director Walter Hill, who was Stallone's pick to replace original helmer Wayne Kramer when some "creative differences" arose between star and director. The film is based ona Matz and Colin Wilson graphic novel, and also features Christian Slater, Jason Momoa and Jon Seda. Check out the full first image from the film, also seemingly featuring Momoa, below.
While a film called Bullet to the Head might suggest using a still that features guns, I like the axe to axe action we see here. Is that a little nod to Stallone's 'so stupid it rules' '86 action movie Cobra? (Which features shots of gang members clanging axes together, as seen partway down this page.)I hope so.
Click to enlarge: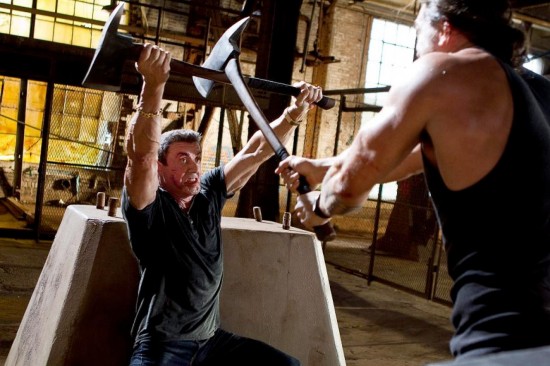 [Stallone teams]with a young NYPD detective in a high-stakes investigation that leads from the dingy back alleys of New Orleans all the way to the power corridors of Washington, D.C. The unlikely duo, brought together by two vicious murders, take on all who stand in their way, and are willing to sacrifice everything to exact revenge.
Bullet to the Head opens on April 13, 2012.