TV Bits: Karen Gillan And Arthur Darvill Leaving 'Doctor Who', Plus: 'Animal Kingdom', Leonardo DiCaprio, Jane Fonda, And More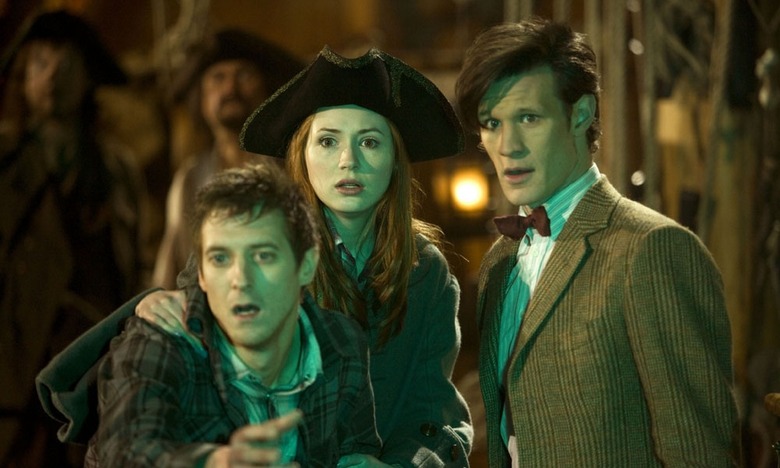 It's a sad day for Whovians as news breaks that Karen Gillan and Arthur Darvill will be leaving Doctor Who in the next series, with a "heartbreaking end" planned for the couple. Thankfully, we've got some other bits that should help cheer everyone up, including a longer preview for 30 Rock and a peek at HBO's new comedy Veep. After the jump:
Karen Gillan and Arthur Darvill — a.k.a. Amy and Rory — will depart Doctor Who
Showtime develops a drama based on David Michôd's Animal Kingdom
NBC offers up a hilarious 5-minute preview of the Season 6 of 30 Rock
HBO plans Leonardo DiCaprio-produced criminal/medical thriller Beat the Reaper
Jane Fonda signs on for a recurring role on Aaron Sorkin's HBO series Newsroom
HBO unveils a trailer for the Julia Louis-Dreyfus Vice President comedy Veep
Gillan and Darvill have been with the series since the start of Smith's run as the Eleventh Doctor in 2010. Feel free to share your favorite memories of the couple — or, alternatively, your rants about why you're thrilled they're gone — in the comments. [Daily Mail]
If you walked out of Animal Kingdom wishing you could spend just a little more time with Smurf Cody and her criminal brood, you must be made of tougher stuff than I am — and Showtime's got good news for you. The cable network has begun developing a new drama based on the hit 2010 Aussie crime thriller, which like the original movie will follow "the tense battle between a criminal family and the police, and the ordinary lives caught in the middle."
John Wells, Jonathan Lisco, and Andrew Stearn — all from Southland — are set to executive produce, with Lisco also writing; the film's writer/director David Michôd is also on board as an executive producer. [Deadline]
Earlier this week the first teaser for Season 6 of 30 Rock had us wondering what could possibly be the big secret Liz (Tina Fey) is keeping from her colleagues. While we still don't know for certain, a just-released longer preview offers some possibilities — including a very handsome, very non-Jack-Donaghy-approved new boyfriend played by James Marsden.
30 Rock returns 8 PM Thursday, January 12 on NBC. [Vulture]
And now, for a handful of HBO-related bits...
Earlier this week saw the release of two trailers for Judd Apatow and Lena Dunham's Girls, but apparently I was so busy being amused by those that I failed to notice the network had also released one for its other upcoming female-led comedy series, Veep. Created by In the Loop director Armando Iannucci and starring Julia Louis-Dreyfus, the political satire follows a senator who lands the job of Vice President of the United States, only to find that it's nothing like she expected. Anna Chlumsky and Tony Hale also star.
Veep hits April 2012 on HBO — as do Girls and Season 2 of Game of Thrones, which means I know exactly what I'll be doing four months from now. [Screen Rant]
Aaron Sorkin's already collected quite a cast for the tentatively titled Newsroom, his new HBO series about the goings-on at a fictional cable news network, with Jeff Daniels, Emily Mortimer, Alison Pill, Sam Waterston, Olivia Munn, Dev Patel, and Josh Pence all signed on to star. Now the latest addition is Jane Fonda, who's just been cast in her first major TV role as recurring character Leona Lansing.
The character's name is a nod to former Paramount CEO Sherry Lansing and businesswoman Leona Helmsley, but it's her resemblance to Fonda's ex, CNN founder Ted Turner, that's got people talking: Lansing is the CEO of the cable news network's parent company, described as "a titan and her corporate concerns often conflict with the reporting of the news outlet she owns." [TV Line]
Leonardo DiCaprio is getting into the TV business with Beat the Reaper, an upcoming drama project for HBO based on Josh Bazell's novel of the same title. Brian Koppelman and David Levien (Ocean's Thirteen) are attached to write and direct the project, and will also serve as executive producers along with DiCaprio. The thriller follows a young doctor who crosses paths with a patient who recognizes him as a former associate of a notorious crime family. As the doctor struggles to keep his past buried, he must contend with old nemeses and unexpected revelations about his history.
Beat the Reaper was originally set up at New Regency back in 2009 as a possible starring vehicle for DiCaprio, but when Brad Weston became the company's new president/CEO in August he deemed it a better fit for television. [Deadline]