Watch THR's Hour Long Interview With 2011's Award-Worthy Producers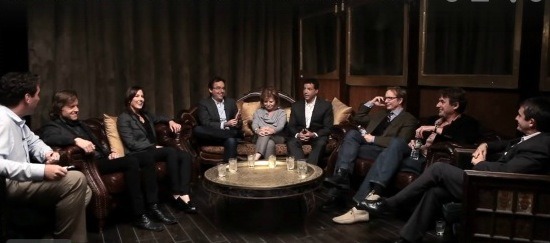 We've posted the directors, actors, actresses, writers and now it's time for the people who bring them all together. Every year during awards season, The Hollywood Reporter organizes the schedules of basically every single actor, actress, writer and director of the year's best films to sit down and discuss them. This, in itself, is pretty spectacular. What's even better is they release the videos of the full conversations so we can watch. For the 2011 Producers' Roundtable, they've brought together Midnight in Paris producer Letty Aronson, Moneyball producer Michael De Luca, Tinker Tailor Soldier Spy producer Tim Bevan, War Horse producer Kathleen Kennedy, The Tree of Life producer Bill Pohlad, The Descendants producer Jim Burke and The Help producer Chris Columbus to discuss their own, and each others', films, all of which have a good shot at multiple award nominations. Check out the video after the jump.
Thanks to The Hollywood Reporter for this awesome video.
We also recently posted the director's roundtable, which you can watch here, the actors here, actresses here, writers here and if you don't want to watch the full roundtable above, click here for clips.
While there are obviously some major films not represented in this bunch, based solely on today's Golden Globe nominations, The Hollywood Reporter did a very good job choosing producers. Four of the seven producers above were nominated for Best Picture either Drama or Comedy and of the three that weren't, at least one – The Descendants – is all but guaranteed an Oscar Best Picture slot. The other two, Tinker Tailor Solider Spy and The Tree of Life, both are unique to the others in that one was released in the United Kingdom first, and could almost be considered a foreign film, and Tree of Life is Terrence Malick, which in itself is interesting.
How many of these films do you think will get Best Picture Oscar nominations?