New Posters: 'Abraham Lincoln: Vampire Hunter' And 'The Hunger Games'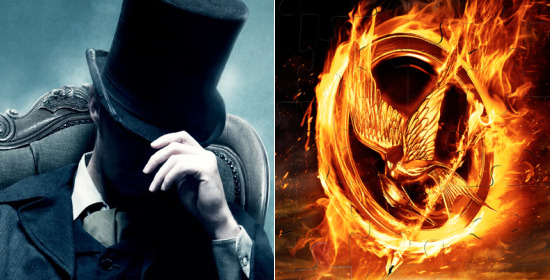 Brand-new posters have just been released for two very different literary adaptations due out next year. The first is Timur Bekmambetov's Abraham Lincoln: Vampire Hunter, an adaptation of Seth Grahame-Smith's alternate-history horror about the sixteenth President of the United States; the other, Gary Ross' The Hunger Games, based on the first volume of Suzanne Collins' insanely popular dystopian YA series. If you ask me, the posters for the former look more striking, but the story behind the poster for the second is more interesting. Check 'em out after the jump.
[The Hunger Games poster via johnshoward's Twitter]
IGN unveiled the two new one-sheets for Abraham Lincoln: Vampire Hunter, which feature the President sitting in the shadows with an axe in two very different situations: "Night" and "Day." The images are so heavily stylized that they look more like comics than photographs, and the pose with the top hat looks more like something out of a pop music video than a history horror tale — but for the most part, they look pretty good to me.
As for the Hunger Games poster, that only came together this afternoon after a viral campaign which saw 100 different "puzzle pieces" of the poster distributed to 100 different websites, for fans to collect and put together. The final product looks appropriately dramatic, but personally, I think I preferred the simplicity of the character one-sheets released in the fall. This one just looks like Katniss (Jennifer Lawrence) is heading to the Olympics or some other type of event that doesn't involve children pitted against each other in a weeks-long death match.
Starring Benjamin Walker in the title role, along with Mary Elizabeth Winstead, Dominic Cooper, Anthony Mackie, and Rufus Sewell, Abraham Lincoln: Vampire Hunter opens June 22, 2012. The Hunger Games hits March 23, 2012, with Lawrence, Josh Hutcherson, Liam Hemsworth, and Woody Harrelson leading the cast.