'Kill List' Trailer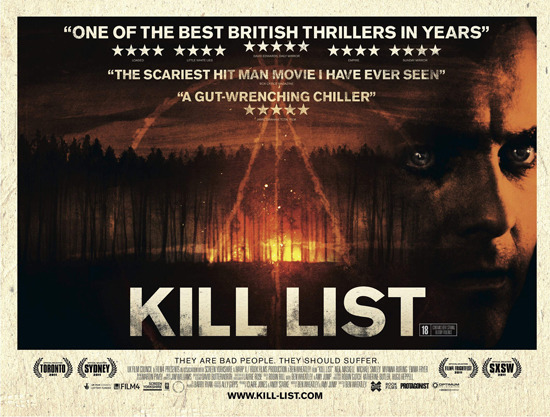 I only know a few things about Kill List, the latest film from Ben Wheatley (Down Terrace). I know that some friends who have seen the movie have raved about its ability to manipulate genre conventions and audience expectations. Even those who have seen it and not loved it, such as Germain, had things to say that intrigued me. (Germain's Fantastic Fest review mentioned the film posing "really screwed up and fascinating questions.")
And I know that the trailer that has been released to begin the promotion for the limited February release, via IFC, looks great. But I'm reluctant to discover any more, because those I've talked to about the film suggest going in cold if at all possible.
All told, Kill List seems like a movie that should be on your radar. Have a look at the trailer below. And not to worry — it seems to be light on potential spoilers.
Yahoo has the HD trailer.
Eight months after a botched job in Kiev, Jay is an out-of-work hitman with no job, money, health insurance and a wife constantly on his case. But when his business partner Gal comes over for dinner and pressures Jay into taking a new assignment, Jay quickly finds himself back in the game with the promise of a big payoff after three assassinations. Although the hits start off without incident, soon things begin to unravel and Jay's paranoia reveals itself as he is plunged into the heart of darkness.