VIDEO: 'The Making Of A Hollywood Love Story,' Behind The Scenes Of 'The Artist'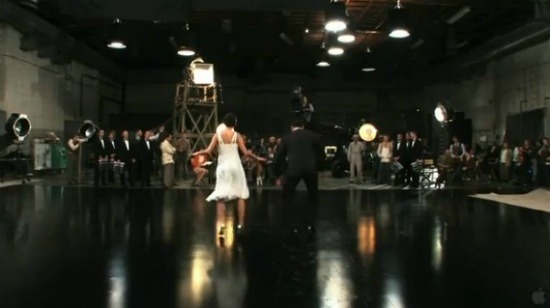 Many film goers are going to be forced to tackle their cinema phobias this award season as Michel Hazanavicius' The Artist is beginning to pick up steam. The black and white, silent film about a silent movie star (Jean Dujardin) whose livelihood is threatened by an up and coming sound star (Bérénice Bejo) is absolutely glorious and not only are critics eating it up, awards are beginning to shower in. That means the average movie goer, who would rarely pay to see a black and white or silent movie, will probably have to bite the bullet just to see something different and wonderful.
The Weinstein Company has released an awesome behind the scenes video about The Artist which gets into a bit of the history, a bit of the preparation and shows scenes from the movie in color, which is oddly exciting. Check it out below.
Thanks to First Showing for the heads up and you can watch the featurette in HD over at Apple. Be warned, this whole video is filled with MAJOR SPOILERS for the movie so watch at your own risk.
If you've seen the movie, or even if you haven't, there are two things that stand out about this video. First is seeing the two stars, Dujardin and Bejo, as normal people from 2011. Obviously they're just actors but, not being familiar with their work, they became those characters to me when watching the film. So seeing them as themselves was jarring, but in a good way. The second thing is the behind the scenes footage where everything is in color. It's a testament to the movie that, as you watch it, you just melt into it and forget about the fact that it was covered to black and white and isn't actually an old film.
Have you see The Artist yet? Do you plan to? Can it win Best Picture?