Mondo Doing Studio Ghibli Poster Series Starting With 'My Neighbor Totoro' By Olly Moss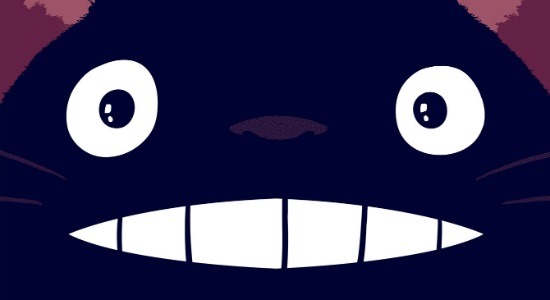 An Olly Moss print release has become an event of epic proportions. Lines around the block, thousands of people manically mashing their F5 buttons, angry tweets from people who weren't able to buy one. Moss is one of the most popular artists working today and, if you read /Film regularly, you're aware of his incredible talents. Mondo has now put those talents to work on an even more exciting announcement. The poster boutique will start releasing posters for the gorgeous and influential films of Studio Ghibli and the first poster, by Moss, is for Hayao Miyazaki's classic My Neighbor Totoro. Totoro, along with many other Miyazaki and Ghibli films, are getting 35mm re-releases in theaters soon.
Check out Moss' new poster, find out how to get one and read more about Mondo's latest.
Here are Moss' My Neighbor Totoro posters. The pinkish one, with English writing, is the regular and the green one, with Japanese writing, is the variant.
These are both 20 x 36 inch screenprints. The regular has an edition of 400 and costs $50 and the variant is an edition of 150 and costs $90. The madness begins sometime on Friday Dec. 16 when these beauties go on sale. Follow @MondoNews on Twitter for the announcement.
The release coincides with the beginning of the Ghibli retrospective at the IFC Center in New York City which runs Friday through Thursday, January 12. Fifteen classic films have had new 35mm prints struck and will travel to Los Angeles, Boston, Toronto, San Francisco, Washington DC, Chicago, Seattle and more after New York. More information can be found here.
And best of all, all proceeds from this print sale will go to the non-profit organization the Ghetto Film School, "an organization of educators and students who share a love for storytelling and filmmaking."
After Totoro, Mondo's next release will be for Porco Rosso, which screened at Butt-Numb-A-Thon and is amazing.
Are you going to try for this poster? Which artists/film pairings do you hope to see with this new license?