'The Dictator' Trailer - Sacha Baron Cohen's Take On A Middle Eastern Tyrant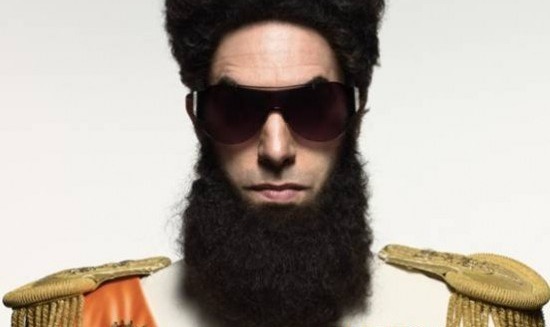 The man who brought us Borat, Ali G, and Brüno heads back into the realm of sociopolitical satire in the first trailer for The Dictator, which hit the Web today. Sacha Baron Cohen stars as Middle Eastern despot along the lines of Muammar Gaddafi, who gets sent to the United States in exile and spends his days riding camels down Fifth Avenue, ziplining across Manhattan, and sleeping with Megan Fox. John C. Reilly and Ben Kingsley also star. Watch the first trailer after the jump.
[via First Showing]
There's definitely the idea of a very funny, very edgy comedy here. Whether this movie actually fulfills that promise, I'm not so certain. Cohen looks every inch the part — love that crazy beard and that perfect white uniform — and I have no doubt he'll throw himself into this role 100%, as he always does with his characters. And there were some amusing bits in the trailer, the highlight being Fox's hilariously self-aware appearance. ("What's this, a ruby? Is that a joke? What am I, a Kardashian?")
But for the most part the trailer struck me as pretty forgettable, and I have to say I expected more from Cohen and the rest of the team involved. Some of the jokes had me rolling my eyes and wondering if this was really the best they could scrape together for the first trailer. It's not that I want to see all the best jokes in the trailer, but I hope there's better where that came from.
Then again, it's possible I'm just cranky because I still don't care for that Panjabi M.C. / Jay-Z song, and/or because I haven't had my coffee yet. What did you think?
Directed by Larry Charles (Borat), The Dictator opens May 11, 2012. Anna Faris, B.J. Novak, Aasif Mandvi, and Jason Mantzouakas also appear.