TV Bits: Terence Winter Talks 'Boardwalk Empire' Season 2 Finale, Plus: '30 Rock', 'The League', 'Terra Nova', Judd Apatow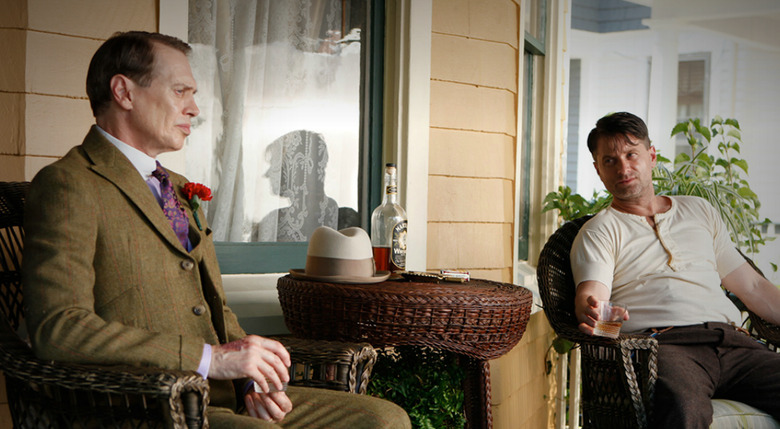 As we head toward the holiday season, Boardwalk Empire winds down, 30 Rock gears up, and Terra Nova remains in purgatory. After the jump:
Showrunner Terence Winter explains the explosive Season 2 finale for HBO's Boardwalk Empire
NBC drops an enticing teaser for 30 Rock's 6th season
HBO reveals a second trailer for its Judd Apatow / Lena Dunham series Girls
FX renews The League for a fourth season
Fox pushes its decision about Terra Nova's fate to next year
In a new interview with Entertainment Weekly, Winter explains that the decision to kill off Jimmy Darmody (Michael Pitt) was made "[p]robably at the very beginning of season 2":
The idea was to try and push things to their absolute limit, even if it makes it difficult for yourself and your writing team. If you take things to their logical extreme with the situation we created, Jimmy has betrayed Nucky, he tried to have him killed. You want to be honest about the storytelling. In the pilot, Jimmy told Nucky: "You can't be half a gangster anymore." We wanted with the first two seasons to follow that trajectory, where he goes full season from being the guy who doesn't want to get his hands dirty to actually pulling the trigger himself. And what's the strongest version of that? To pull the trigger on the very guy who told him, "You can't be half a gangster anymore." It's like, "Guess what? You're right. I can't. And here's me now fully becoming a gangster." Anything short of Nucky doing it himself wouldn't feel real, it wouldn't be real. And it would be a cheat for us to say, "We want to keep our beloved character Jimmy Darmody alive."
Hit EW.com for the full story, in which Winter also talks about how he broke the sad news to Pitt, where — or rather, when — Season 3 might be headed, and who'll be Boardwalk Empire's new up-and-comer. (End spoilers for Boardwalk Empire Season 2.)
Sad as it is to see Community go on hiatus, the one silver lining to be found in the midseason shuffle is the return of 30 Rock, which will be taking over Community's slot in the Thursday evening lineup starting in January. NBC has just unveiled an intriguing preview for the upcoming season, teasing a deep, dark secret that Liz Lemon (Tina Fey) has been keeping under wraps. Watch the trailer below:
I've no idea what the bombshell might be, but whatever it is, it's got Liz singing in the streets, talking to herself, and grabbing her own boobs, while Jack (Alec Baldwin), Kenneth (Jack McBrayer), Jenna (Jane Krakowski), Tracy (Tracy Morgan) look on in confusion and concern. Perhaps Kelsey Grammer, playing himself, can help get things sorted out. Find out when 30 Rock returns Thursday, January 12 at 8 PM on NBC. [via HitFix]
Just days — hours, really — after we got our first look at the Lena Dunham-created, Judd Apatow-produced Girls, HBO has released a second teaser for the comedy. It's actually identical to the first teaser until about 27 seconds in, which means we only really get about 10 seconds of new footage. But hey, those 10 seconds look pretty entertaining! Watch the new video below:
Starring Dunham, Jemima Kirke, and Allison Williams as a group of 20something women struggling to make it in New York City, Girls premieres April 2012 on HBO. [HBO YouTube page]
More good news for comedy fans: FX has picked up The League for a 13-episode fourth season, with production slated to begin this summer for a fall debut. Starring Mark Duplass, Stephen Rannazzisi, Nick Kroll, Paul Scheer, Jon Lajoie, and Katie Aselton, the half-hour comedy revolves around a fantasy football league and the everyday lives of its members. In its current third season, which has three episodes remaining, the series has averaged 1.7 million viewers — an increase of 25% from last season. [Variety]
The news is less positive for sci-fi fans, or at least those hooked on Fox's time-traveling dinosaur series Terra Nova. According to star Jason O'Mara, the network won't decide whether or not to renew the series for a second season until 2012. "Decision to pick up #TerraNova for S2 deferred to New Year by @FOXBroadcasting. Everyone involved remains confident and optimistic," he tweeted.
Fox is reportedly interested in seeing how things pan out ratings-wise with its new midseason shows — including J.J. Abrams' Alcatraz and the Kiefer Sutherland-starring Touch — before it makes the call on Terra Nova. [Slice of Sci Fi]