'Moneyball' And 'Parks & Recreation' Star Chris Pratt In Talks For Kathryn Bigelow's Bin Laden Thriller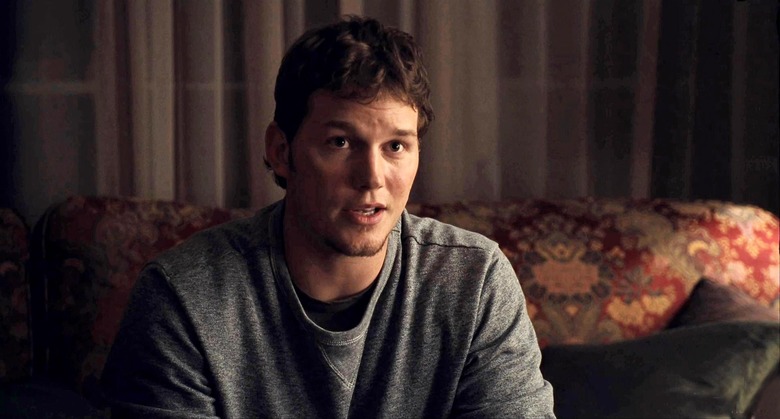 Though he's been acting in film and television for over a decade, Chris Pratt is probably best known right now as irrepressible goofball Andy Dwyer on NBC's Parks & Recreation — but that could be changing soon. The actor got a chance to show off his more serious side in this summer's Moneyball and now, he may be about to head even further into dramatic territory. According to a new report, Pratt is now in talks to join Jason Clarke in the cast of Kathryn Bigelow's untitled movie about the killing of Osama bin Laden, due out late next year from Sony. More details after the jump.
Pratt's biggest early gig was on the dramatic series Everwood, but in recent years he's gained a reputation as comedic actor thanks in a large part to his performance on Parks. This year saw him appearing in What's Your Number? and Take Me Home Tonight (both alongside wife Anna Faris) on the funnier end of the spectrum and Moneyball on the heavier side. His next apperance will be in Nicholas Stoller's The Five-Year Engagement, with Jason Segel, Emily Blunt, and a British-accented Alison Brie.
Bigelow's project had been developing since 2010, but suddenly became the best-positioned project in town when President Barack Obama announced the death of the terrorist leader this past spring. The real-life turn of events forced Bigelow and co-writer Mark Boal to go back and make significant changes to the story. It also put them at the center of controversy, with Representative Peter King (R-New York) accusing the White House of giving the filmmakers sensitive information (allegations the White House dismissed as "ridiculous") and others complaining about the film's intended October opening. The picture has since been moved to a December 19, 2012 release date, and is on track for a February 2012 start.