Denzel Washington May Be 'The Equalizer'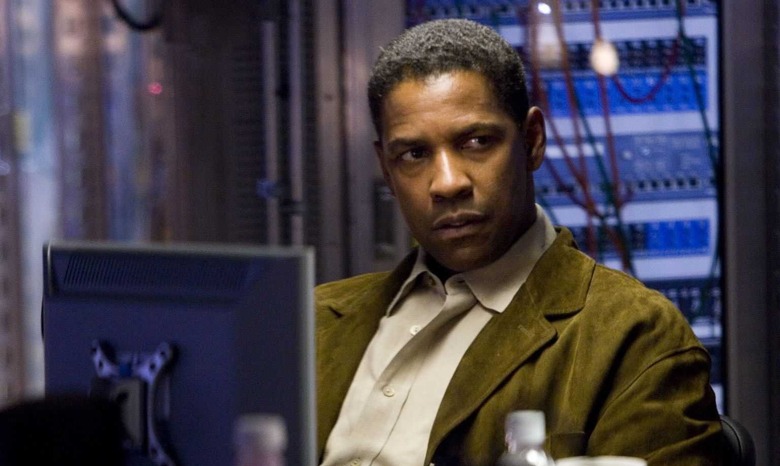 Looks like Paul Haggis and Russell Crowe aren't going to revive '80s TV show The Equalizer, after all. Last year Haggis was in talks to write a big-screen version of the show that starred Edward Woodward as a retired secret agent who tries to atone for his violent past by offering his services, pro bono, to those in need. The film also had Crowe attached to play the lead role, and it was easy to guess how he'd work out in the role originated by Woodward.
But things change, and in the year since we last heard about the project both Haggis and Crowe have evidently moved on. Today Sony released a statement about the company's continuing first-look deal with production company Escape Artists. The release runs down several in-development projects, one of which is The Equalizer. It says that the film is being developed as a starring vehicle for Denzel Washington.
Here's what the release has to say about the project:
A feature film adaptation of the hit 1980s television series "The Equalizer," to be written by Richard Wenk. The project is being developed with Denzel Washington in mind to star and Alex Siskind is partnered with Escape Artists to produce. Washington previously starred in Escape Artists' The Taking of Pelham 1 2 3 and starred in and directed Antwone Fisher and The Great Debaters for producer Todd Black.
I can actually picture Denzel in this role even more easily than I could Crowe. If the producers want to emulate Woodward's presence, Denzel definitely has the proper combination of gravitas, power and compassion to make the picture work. And if they're open to doing something a bit different, the actor can probably deliver that, too.
Also mentioned is the Nicholas Stoller film Sex Tape, the Masters of the Universe movie, How to Disappear Completely, Rumspringa, I Want to ____ Your Sister, and Gospel for Teens. Most of these are films we've reported on in the past, and no significant new information is doled out about any of them.