'Rock Of Ages' Trailer: Hairpieces, Histrionics And Hysteria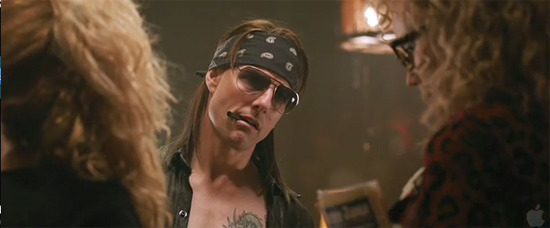 For me, the best part of the trailer for Adam Shankman's Rock of Ages is the prominent display of the Motorhead logo in the first few seconds. After that it's all downhill. The film adapts the stage 'jukebox musical' with Diego Boneta and Julianne Hough playing wide-eyed kids caught up in the mid-'80s LA rock scene. Well, they're caught up in a vision of that scene, at least, as filtered through comedy, nostalgia and the parameters of the movie musical. Check out the trailer below, which holds the reveal of Tom Cruise's rocker Stacee Jaxx until the very end.
There are some fun things here: Alec Baldwin's wig, Paul Giamatti's snarl, and Catherine Zeta-Jones perfectly channeling the screeching silliness of '80s right-wing power moms opposed to rock and metal. She comes across just as I always perceived Tipper Gore, even if that's not how some of those moral crusaders actually behaved.
And Tom Cruise looks pretty perfect as the aloof rock star with whom everyone is obsessed. But the trailer as a whole did more to make me want to re-watch Streets of Fire than it did to sell me on this movie. I love the movie musical, and while the conversion of the LA rock scene into manufactured landscape is entertaining — probably not quite in the way intended — the reworked soundtrack songs already seem like more than I can take. In fact, watching a second time, this really looks unbearable.
Related to that I have one plea: can 'We Built This City' be buried, forever? There's a reason it was once voted as the worst song ever written. No one actually likes that tune, right? (Its presence here makes a certain sense, but in The Muppets it was painful.)
Apple has the trailer in HD. Rock of Ages will hit theaters on June 1, 2012.
"Rock of Ages" tells the story of small town girl Sherrie and city boy Drew, who meet on the Sunset Strip while pursuing their Hollywood dreams. Their rock 'n' roll romance is told through the heart-pounding hits of Def Leppard, Joan Jett, Journey, Foreigner, Bon Jovi, Night Ranger, REO Speedwagon, Pat Benatar, Twisted Sister, Poison, Whitesnake, and more.