'Paradise Lost' Shoot Delayed; Meanwhile, Bradley Cooper Still Planning To Script 'Hyperion'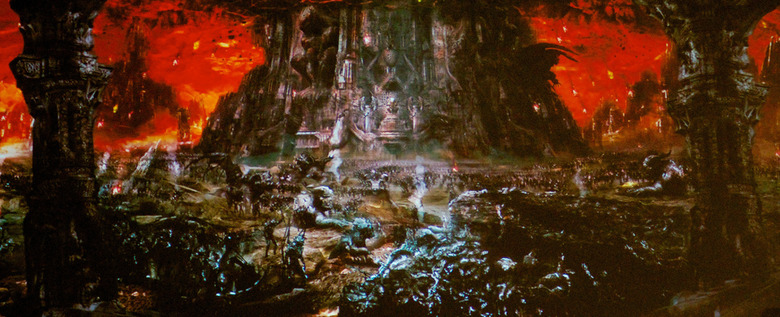 If you've been following the development of Paradise Lost, which Alex Proyas was planning to direct early next year with Bradley Cooper starring as Lucifer, and which is said to feature a few massive battles between armored airborne angels, you might have thought, "gee, that sounds really expensive."
Turns out Disney isn't the only company willing to put a film on hold when the budget threatens to get out of hand, as Legendary Entertainment has just benched Paradise Lost while some script changes are made that will help bring the budget down a bit. And in the meantime, hopefully Bradley Cooper can move forward with his stated intent to script a film version of Dan Simmons' Hyperion novels.
Deadline reports that the budget of Paradise Lost "had passed the $120 million mark by 10% or 15%." That's in part due to the fact that the basic live-action shoot is meant to be augmented with a year's worth of CGI in post-production. The film isn't scrapped, and Legendary will reportedly continue to develop it while some work is done on the budget. The site likens this to Disney's decision to put Lone Ranger on hold when that budget went north of $250m, but in this case Deadline seems certain from the outset that this is temporary.
All the cast (which also includes Benjamin Walker, Diego Boneta, Camilla Belle, Dominic Purcell, Rufus Sewell, Casey Affleck and Djimon Hounsou) will likely stay on board, at least for now.
Speaking in an unrelated interview to Metro, Bradley Cooper acknowledged that there will perhaps be some small controversy over turning Milton's epic poem into an action movie:
You bet it's going to be criticized. You're taking one of the greatest pieces of literature of the past 300 years  but who cares? It really is a wonderful experiment.
And while Metro had Cooper talking, the outlet got him to mention Hyperion, which we've known he wants to script, and possibly direct:
I want to direct. My writing partner and I are adapting The Hyperion Cantos by Dan Simmons, a sci-fi writer. It's a four-book series. It's not that I thought I wanted to do something unreachable: I just love the material and we're having a crack at it. We wrote a 40-page treatment and we'll start working on it in the summer.
With Paradise Lost perhaps pushed to a spring or summer shoot, that script work might take place sooner rather than later.
The Hyperion Cantos is definitely a massive undertaking. The Cantos are a set of traveler's tales which, woven together, contain exploration across several worlds, through centuries, and which culminate in one long encounter on the planet Hyperion, where the rules of time have been bent more than a little bit. That's a grand over-simplification of what happens, but that'll do for now. The first two Hyperion books (out of four) are the key ones, and one can't be adapted without the other, because of the way the story is broken up across the two books. And I really have no idea how this might turn out, but I love that Cooper wants to try it.