'Mission: Impossible – Ghost Protocol' Review – Bad Ass Action With Brad Bird Style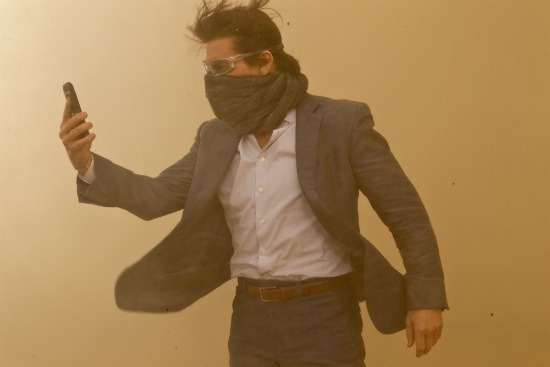 Without exaggeration, you can probably count the amount of static dialogue scenes in Mission: Impossible Ghost Protocol on one hand. In seemingly each and every scene, director Brad Bird's first live-action film is bursting with vitality. Things are always moving, situations are stressful, not everyone is who they say they are, and more often than not there's some kind of awe-inspiring stunt or intense fight happening. From frame one, Ghost Protocol is a high-octane drag race of non-stop action and that in itself would almost be sufficient. Bird, however, separates this film from not only the rest of the series, but most action films in general, by having these scenes advance the plot as well as character, all while maintaining a welcome balance of levity and heart.
While Mission: Impossible Ghost Protocol rewards viewers who are familiar with the previous three films in the series, it's more or less newbie friendly. After a mission gone wrong, IMF agent Ethan Hunt (Tom Cruise) and a new rag-tag spy team (Simon Pegg, Paula Patton and eventually Jeremy Renner) are exiled and must stop a man named Hendricks (The Girl With the Dragon Tattoo's Michael Nyqvist) from starting nuclear war in order to clear their names.
It's a very simple, straight-forward plot that's told with plethora of new and interesting situations thanks to the screenplay by Josh Appelbaum and André Nemec. There's plenty of Bird influence there too, as his signature lightheartedness is present even in the most dire of situations. Part of that is the dialogue, another is the performances and chemistry, but the unsung hero to the lighthearted, fun tone are the fantastic gadgets that have been dreamed up this time around. I wouldn't want to give too many away, but the gadgets breath life into otherwise tired situations and make stunts that would seem impossible, possible.
The downside to that kind of madness is while the action never ever stops, neither does the fact that simultaneously nothing and everything always goes right for the team. There's a plan, it totally goes out the window, but through improvisation it all works out in the end. Again and again. It gets a little tired, but the repetition is forgivable simply because everything is constantly exhilarating.
Also, major props are due to Paramount's marketing for largely hiding the final set piece of the film from the trailers. You've seen the car chases, the gun fights, the Burj Khalifa in Dubai, but with about 40 minutes left you'll be thinking, "Wait, haven't I seen everything already?" You haven't. That's not to say the finale tops what comes before it, but it's nice to be surprised. It happens so rarely these days.
And while traditional, stereotypical roles are never broken out of – Paula Patton's agent constantly uses her sexuality, Simon Pegg is the geeky guy who never gets to do anything – it's a small price to pay for a film that entertains so thoroughly and leaves you begging to see the next chapter.
Mission: Impossible Ghost Protocol is that rare blockbuster that delivers on its promise. It opens in IMAX theaters Friday December 16 and everywhere December 21.
/Film Rating: 8 out of 10