'The Lord Of The Rings: The Fellowship Of The Ring' Was Released 10 Years Ago Today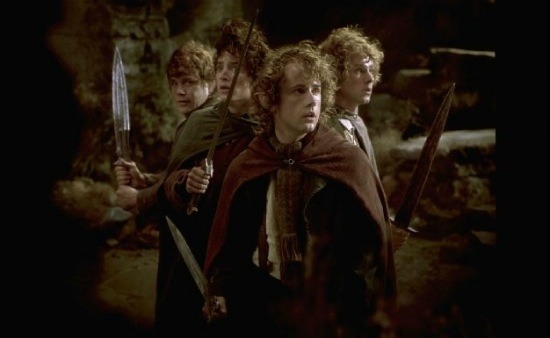 Like many things these days, it all began with a teaser trailer. The day was April 7, 2000 and New Line Cinema released a 100 second trailer teasing The Lord of the Rings, an epic series of films they had in production based on the famous books by J.R.R. Tolkien. Directed by Peter Jackson, a guy who, at that point, had only done five small movies, this one trailer lit a spark that changed the face of modern movies.
At that point, I'd never read the books but the kind of epic action that was being portrayed in the trailer was unlike anything I'd ever seen. I immediately shot over to Amazon, order the whole trilogy, and devoured the series with delight. The fact that these movies were being made was amazing and my anticipation was beyond fever pitch.
It all let up to ten years ago today, December 19, 2001, when dream became a reality and The Lord of the Rings: The Fellowship of the Ring was released in theaters nationwide. It opened to about $75 million over its first five days, eventually grossed $315 million domestic, $871 million internationally, garnered 13 Oscar nominations – including best picture – and won four. Audiences knew we'd seen something epic, new and amazing but we had no idea where the journey would take us and is still taking us today.
For me personally, December 19, 2001 was a very, very long day. I was a senior in college at New York University, two months removed from September 11. The city was still very much in recovery and in need of distraction. Previous weeks had brought films like Ocean's Eleven and Vanilla Sky but December 19 was the one circled on my calendar. Fifteen days prior, when advanced tickets went on sale, I purchased the first available show: noon December 19 at the then United Artists Union Square 14. A midnight show was subsequently announced for the IMAX screen uptown at Loews Lincoln Square to be introduced by a surprise, special guest. I decided to buy tickets to that and sell the ones for the next morning. No one wanted them.
A decade removed, my memories of that night are both crystal clear in parts and fuzzy in others. I remember the line being very long to get into the theater. I remember snagging a great seat near the back and Gandalf himself, Ian McKellen, coming out to welcome us to our cinematic Middle Earth. The lights went down and the gorgeous voice of Cate Blanchett got the whole thing rolling. That night also is cemented in my memory because it was the first time I caught a flick with my now best friend Jon, who lived right around the corner, allowing for a quick exit.
Two hours and 58 minutes later, as we walked out of the theater, I had no idea what I'd experienced. My only thought was "I'm so glad I have tickets to see this again tomorrow morning." So I slept for roughly 6 hours, woke up, went to Union Square and lined up again. This time, a little better rested and a little more prepared for what I was about to experience, the Fellowship of the Ring played me like a violin and became my favorite movie of the year. In fact, I still have the tickets from the two shows in 12 hours.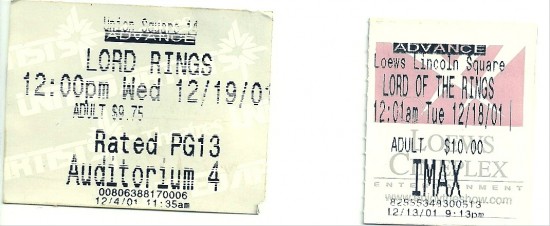 Though years later I'd come to consider Return of the King as my favorite, and best film, in the trilogy, Fellowship is the most classically structured and easily accessible. We begin with the huge prologue giving us a crash course on Middle Earth, enter a world totally devoid of evil and slowly but surely are brought down a hole of staggeringly fear and inevitability with Frodo Baggins. It's up to him to save the world. Period.
That message rang true in late 2001 as the country was still struggling to come to terms with the events of September 11. We wanted someone to take responsibility and help us. Frodo Baggins, Samwise Gamgee and the rest of the Fellowship did just that. And though the film was opened ended and some audiences were unaware two more films would be needed to finish the story, it didn't matter. Fellowship of the Ring tells an epic, thrilling story that leaves you begging for more.
Not only did the film give audiences the escapism and wish-fulfillment they needed, it introduced us to Peter Jackson as a master filmmaker who'd give us two more Rings films in the next two years, extended versions of all of them, and now, ten years later, he's completing the story by adapting Tolkien's prequel, The Hobbit. Jackson's decision to film all three films at once became a franchise go-to for studios, the technology devised for the battles scenes was used in innumerable movies after and it reinvigorated a fantasy genre, allowing studios to give us darker genre fair like Pirates of the Caribbean and 300. Without Fellowship of the Ring there's no Charlie from Lost, Viggo Mortensen and Orlando Bloom don't become a major stars and motion capture (largely used in Two Towers but still) doesn't take off and give us films like Avatar or Rise of the Planet of the Apes. The list goes on and on.
And it all began ten years ago today, December 19, 2001. Truly a landmark day in the history of cinema.
Below is the trailer referenced in the first paragraph of this story. I dare you to watch it, knowing now what it signified then, and not get goosebumps.