'Girls' Trailer - Judd Apatow Returns To Television With 'Tiny Furniture' Writer / Director / Star Lena Dunham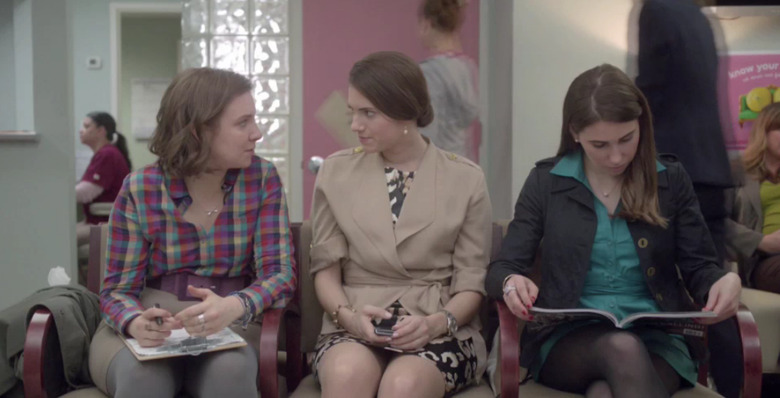 If CBS' 2 Broke Girls didn't quite prove to be edgy enough for you, perhaps HBO's thematically similar new series Girls will fit the bill. Created by Lena Dunham (Tiny Furniture) and executive produced by Dunham, Judd Apatow, and Jenni Konner, the comedy follows a group of 20something women — aspiring writer Hannah (Dunham) and her BFFs (Jemima Kirke from Tiny Furniture and Brian Williams' daughter Allison Williams) — as they struggle to make it in the big city. Watch the first trailer after the jump.
Tiny Furniture and Knocked Up may appear to have rather different sensibilities on the surface, but judging by this 47-second teaser, Apatow and Dunham actually seem to bring out the best in each other. Girls looks a great deal peppier and more laugh-out-loud funny than Tiny Furniture was, without sacrificing any of the bracing candor that made that film worth watching.
"I've never seen a series about girls like me or girls my age depicted in a way that felt accurate and honest," said Dunham when the pilot was announced last year. "I can always promise awkward sex – not sex in a pipe, but I won't disappoint you. It's still cringe-worthy." I don't think it's too soon to say Dunham's made good on her word.
Meanwhile, it's great to see the guy who once helped bring Lindsay Weir to life make his return to television with another hilariously uncomfortable series featuring a smart female lead. Whether or not Girls really does wind up being the voice of a generation — or at least, a voice of a generation — the series definitely looks worth checking out when it hits HBO April 2012.
Official synopsis:
Created by and starring Lena Dunham ("Tiny Furniture"), the show is a comic look at the assorted humiliations and rare triumphs of a group of girls in their early 20s. Dunham wrote and directed the pilot of the series, which she executive produces along with Judd Apatow and Jenni Konner.  The cast also includes Jemima Kirke, Allison Williams, Adam Driver and Zosia Mamet.  Episodes were shot in New York. The ten-episode season debuts in 2012.