'Game Of Thrones' Teaser - Stannis Baratheon Lays Claim To The Iron Throne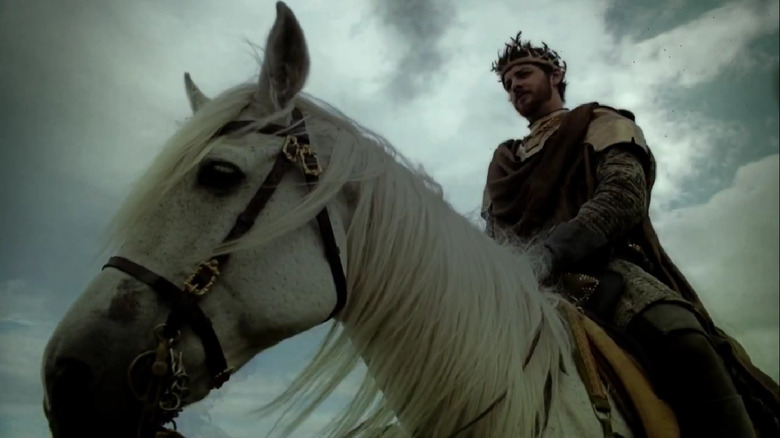 Now this is more like it. The first teaser we got for Season 2 of HBO's Game of Thrones revealed absolutely nothing about the upcoming season, and though we've gotten some better looks since then — thanks to some behind-the-scenes production videos and a handful of set photos — it's great to finally have a proper teaser with dramatic shots of the characters and landscapes to go with the requisite ominous voiceover.
Given that Season 2 will be based on A Clash of Kings, Book 2 of George R.R. Martin's A Song of Ice and Fire series, it seems entirely appropriate that the narration in this teaser comes from one of the men determined to win the Iron Throne for himself: the brittle, humorless Stannis Baratheon, played by Stephen Dillane. Watch the trailer after the jump. (Warning: Major spoilers for Season 1/Book 1 ahead.)
[via Coming Soon]
The new teaser doesn't give away anything we didn't already know at the end of Season 1, but I still got a kick out of seeing Tyrion (Peter Dinklage) with his Hand of the King pin. From the look on his face, it's apparent he's not finding that position any easier to handle than poor Ned Stark did last season.
Season 2 of Game of Thrones will premiere on HBO in April 2012. Most of the Season 1 cast will return, along with a slew of newcomers including Dillane, Carice van Houten, Liam Cunningham, Gwendoline Christie, Natalie Dormer, Patrick Malahide, Gemma Whelan, and many more.
Here's the Amazon.com synopsis for A Clash of Kings:
The Seven Kingdoms have come apart. Joffrey, Queen Cersei's sadistic son, ascends the Iron Throne following the death of Robert Baratheon, the Usurper, who won it in battle. Queen Cersei's family, the Lannisters, fight to hold it for him. Both the dour Stannis and the charismatic Renly Baratheon, Robert's brothers, also seek the throne. Robb Stark, declared King in the North, battles to avenge his father's execution and retrieve his sister from Joffrey's court. Daenerys, the exiled last heir of the former ruling family, nurtures three dragons and seeks a way home. Meanwhile the Night's Watch, sworn to protect the realm from dangers north of the Wall, dwindle in numbers, even as barbarian forces gather and beings out of legend stalk the Haunted Forest.