BNAT 13 Recap: The Hobbit, The Grey, Ghost Rider: Spirit Of Vengeance And More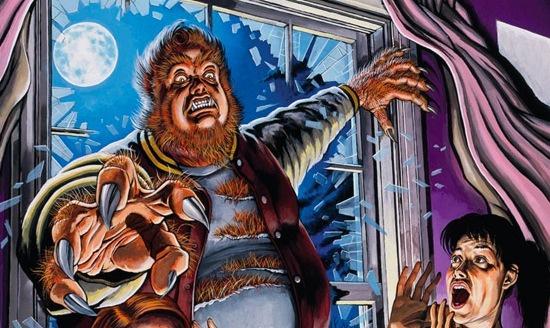 Where can you be the among the first audiences ever to see The Cabin in the Woods, The Grey, Ghost Rider: Spirit of Vengeance, the first trailers for The Hobbit: An Unexpected Journey and G.I. Joe Retaliation as well as huge upcoming titles like The Adventures of Tintin, Sherlock Holmes: A Game of Shadows and Mission Impossible: Ghost Protocol all in one sitting, all for one ticket price, with the best film audience imaginable? Butt-Numb-A-Thon, of course.
For movie fans, Butt-Numb-A-Thon is the biggest and most rewarding test of film going stamina out there today. Now in its thirteenth year, this annual film festival celebrating the birthday of Ain't It Cool News founder Harry Knowles is 24 straight hours of new and vintage films played to a hand-picked audience of fans who had to jump through all sorts of hoops to attend. Homework assignments, applications, embarrassing photos. Butt-Numb-A-Thon is not only a marathon of film watching, it's a decathlon of film passion.
This year's Butt-Numb-A-Thon, dubbed Butt-Numb-A-Thon Thirteen Wolf, featured an almost staggering amount of new movies, some incredible vintage films and surprises galore. Both Peter and I were lucky enough to have our applications accepted and you can read a full recap and more after the jump.
The thirteenth edition of Butt-Numb-A-Thon at the Alamo Drafthouse South Lamar in Austin, Texas began with an explosion. Literally. Ain't It Cool News writer Eric Vespe (you know him as Quint) was not supposed to attend this year as he's embedded on the set of Peter Jackson's The Hobbit. So the event began with a video he made, with Jackson and several other members of the cast and crew, expressing his regretful absence. The video surprising ended with Gandalf "magically" making him appear in Austin amiss three red flares on stage. But Quint didn't come all the way from New Zealand just to see 24 hours of movies, he brought a gift: the world premiere of the teaser trailer to The Hobbit: An Unexpected Journey. After this was revealed, Quint said he had the trailer but needed a "trailer bearer" to bring it to the projection booth. "I'LL TAKE IT!" screamed one very eager audience member, who just happened to be Elijah Wood, Frodo Baggins himself. Everyone had a good laugh and the trailer was cued up...only to encounter technical difficulties. We'd have to wait but Butt-Numb-A-Thon Thirteen Wolf had already started off with a bang.
The first film on the twelve-film menu was one of the most surprising: Martin Scorsese's Hugo. It was surprising because Knowles has rarely, if ever, shown a movie that's currently in theatrical release. However, he loves Scorsese's ode to cinema so much and felt it so perfect set the tone for the 22 hours following, it was the ideal table-setter He was right. On a second viewing, Hugo remains a wonderful love letter to movies and the best use of 3D ever. Period.
Hugo was perfectly followed by a rare 35mm print of George Méliès' A Trip to the Moon with a live accompaniment by Graham Reynolds. If you've seen Hugo, you're probably getting goosebumps thinking about watching this film right immediately following. If you haven't, I won't spoil why this was so special.
Next up was a 1930 film called Just Imagine. Knowles said that not only was the first sci-fi film ever made by Hollywood but it was a musical and extremely hard to come by. Just Imagine is a good idea: a 1930s film set in a hilariously "futuristic" 1980 where a man travels to Mars to win the girl of his dream. Unfortunately it's a little slow and overly melodramatic. In the end it was enjoyable but not all that memorable, except for its historical significance and unintentional comedy.
Fourth was Tinker, Tailor, Solider, Spy, the British spy film by Tomas Alfredson starring Gary Oldman, Colin Firth, Toby Jones and many others. The director and star sent a video introduction wishing Knowles a happy birthday and then the film, which I had already seen the week prior, began. On first viewing, I found Tinker, Tailor interesting, but a little too dry and flat. Upon a second viewing, the overly complex plot makes more sense and was more rewarding but the film is still flat and characters underdeveloped. A solid film, but underwhelming.
That slow spy movie was followed by a very fast spy movie, Sherlock Holmes: A Game of Shadows. Director Guy Ritchie sent his own video introduction to precede this superior in every way sequel with Robert Downey Jr., Jude Law, Noomi Rapace and Jared Harris. While parts of A Game of Shadows feel superfluous, it's a non-stop action movie with several jaw-dropping sequences and an incendiary climax. Having a villain like Moriarty who is the equal to Holmes elevates the material in every way. A fun, recommended film.
Thoughts from editor Peter Sciretta: "I enjoyed the first in the series, but for some reason had written off this sequel as a cash grab. Game of Shadows is actually a lot of fun and features more of the features that many people enjoyed in the first film."The Beast With Five Fingers was next, a 1946 movie about what happens when a handicapped pianist dies and leaves his fortune to his sexy maid. What happens is a pre-cursor to Evil Dead as his hand becomes possessed and goes on a murderous rampage. Featuring a hilariously over the top performance by Peter Lorre, Five Fingers isn't available on DVD or Blu-ray, but if you ever get the chance, it's worth watching.
At this point, almost halfway into the event, The Hobbit trailer finally worked. We were asked not to describe it but suffice to say, we watched it three times in a row and cheered, gasped and laughed each time. It'll be out next week with Tintin and is phenomenal. Speaking of which....
Thoughts from editor Peter Sciretta: "Seeing the characters from the Lord of the Rings trilogy in 48 frames per second 3D is a completely new experience. The teaser doesn't cop out as you will get to see a lot of footage. It looks epic and I can't wait to see more."The Hobbit trailer was followed by Peter Jackson's latest producing gig, The Adventures of Tintin by Steven Spielberg. Before we get to that, though, attached was the trailer for G.I. Joe Retaliation. Jon Chu has really put some stunning visuals on film and one sequence in particular looks better than the whole first movie combined. The trailer will be out this week.Thoughts from editor Peter Sciretta: "Jon Chu's GI Joe sequel looks like it could be everything you possibly wanted from a live action GI Joe movie. Seriously."
Back to Tintin. The film has a lot to live up to, largely because its distinguished cast and crew and legendary source material, and, thankfully, it does just that. It meets expectations. Nothing more. Spielberg's movies are best when the lead character is flawed and Tintin isn't. He's too squeaky clean, making the film a little less accessible. Still, the visuals are stunning, the story interesting and you'd be hard pressed not to find a bunch to like about Tintin.
Thoughts from editor Peter Sciretta: "I know this is an animated film, but Spielberg's one-shot sequence which takes place two thirds into the film might be the single greatest one-shot sequence in the history of cinema. I've now seen it twice and its even more amazing. The visual storytelling is worth seeing the film alone. The problem with the movie is that Tintin is too vanilla and not at all interesting. I kind of wanted him to be smarter, smarter than the audience at very least — but Spielberg instead sometimes lets the audience in on some of the secrets way before his lead character, which results in frustration and a lack of respect for your lead investigative character."
Computer animation segued nicely into hand-drawn animation for the eighth film. We were the first audience ever to watch a brand new 35mm print of Hayao Miyazaki's 1992 film Porco Rosso. I'd never seen this gorgeous film and watching it made me think "This is what Top Gun would looks like if directed by Mizazaki." Which basically is a longer way of saying it's fantastic.
The evening's ninth film, starting at about 4 in the morning, was Drew Goddard's The Cabin in the Woods. We weren't allowed to tweet about the movie, but we're allowed to write about it briefly here. Written by Goddard and geek god Joss Whedon, this long-delayed horror movie was worth the way and energized the crowd like only a select few BNAT films have in the past. Avoid any and all clips, spoilers, trailers and whatever else is out there about this film. You'll be glad you did. The Cabin in the Woods is a ballsy, unique and gruesome horror movie. It'll be out April 13.
Thoughts from editor Peter Sciretta: "This is one of those movies that is worth seeing because its so batshit ridiculous awesome. It seems like this movie was a favorite of most everyone at this year's BNAT, and while I enjoyed it and will highly recommend it, but I still feel the film lacks an interesting story of arc for any of its characters. But the shock factor will have you rewatching and recommending this to all of your friends for years."
Co-director Brian Taylor, he of Neveldine and Taylor, then showed up with their latest movie, Ghost Rider: Spirit of Vengeance, which won't be out until February. When the directing duo showed up at Comic Con, they really wowed the audience with their presentation, raising fan expectations immensely. Sorry to say, Spirit of Vengeance doesn't live up to that hype. There are some fun moments and the main character not only looks great but – as his alter ego Johnny Blaze – actor Nicolas Cage turns in some really fun stuff. However, the best way to sum up this film was from the Q&A after when Taylor said he added in a jokey, animated montage to wink at the audience that the directors didn't really know what was going on with the story either. Oops. Great action, superb effects and camera work, but a cookie cutter story with awful characters, equals a below average film. It's better than the original, but that's not saying much.
Thoughts from editor Peter Sciretta: "Spirit of Vengeance is better than the first film, and the character design is drastically improved. Unfortunately the script is a boring mess, the film lacks a proper budget and the post converted 3D looks pretty horrible compared to films like Hugo."
Second to last, but definitely not least, was Joe Carnahan's Liam Neeson vs. wolf film The Grey. Much more pensive and introspective than you'd imagine, the film punctuates emotion with huge scares, gory kills and one of the most terrifying enemies in recent memory: Hungry wolves on the hunt. Each character is handled delicately and given their proper time but, in the end, this is the Liam Neeson show and we're all just lucky to watch it. The Grey was, to this point, my favorite film of BNAT. Then came the finale.
For the finale, all 200 plus audience members left the Alamo Drafthouse and hopped on buses to the nearby IMAX theater to see Mission: Impossible: Ghost Protocol. First thing's first. See this movie in IMAX. Brad Bird's IMAX shot selection is superb and gives the movie even more scope than it already has. Which is a lot. Right now, I believe Ghost Protocol is my favorite in the series. It's a high-octane drag race of non-stop action, always pushing forward character and storyline while managing to infuse it all with levity and heart. Fans are going to go nuts for this film and rightfully so. Bird has hit a home run. A full review is coming later this week.
Thoughts from editor Peter Sciretta: "Ghost Protocol might be my favorite film of BNAT — but I think I need to experience another time and not at the tail end of a 25 hour film marathon. One thing is for sure, you need to experience this in a 70mm film IMAX theatre for the IMAX-shot action sequences alone (also it helps that the first 6 minutes of The Dark Knight Rises, also shot in IMAX, will also be attached to select prints)."
And don't forget, all of this is interspersed with classic trailers, hilarious inside jokes, viral videos, food brought to your seat, great people and better conversation. If you can get in, Butt-Numb-A-Thon is one of, if not the best, film experiences you'll ever have. Personally, I've been lucky to attend three times now and while each leaves you short on sleep, high on caffeine, and, yes, a little numb, what you'll really be left with are unforgettable memories of the perfect movie experience stretched into what feels like infinity. In other words, Heaven.