Relative Newcomer Chadwick Boseman To Play Jackie Robinson In '42;' Harrison Ford Confirmed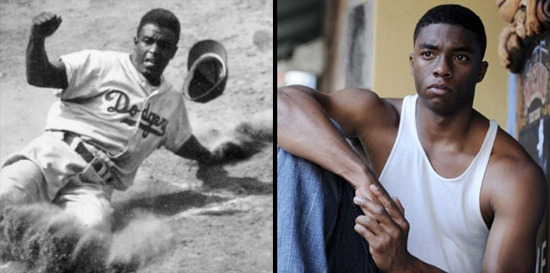 Briefly: We've just heard that Harrison Ford is the latest actor that the producers of Jackie Robinson film 42 have eyed to play Branch Rickey, the LA Dodgers exec who helped break the color barrier in baseball by signing Jackie Robinson. While we don't know if Ford will end up playing the role (somehow I expect not) we do know who'll play Jackie Robinson.Chadwick Boseman, whose credits are primarily in small TV roles going back to 2003, will play Robinson, according to Variety.Update: Looks like I was wrong in the opening paragraph, as Jeff Sneider at Variety just said via Twitter, "BREAKING: HARRISON FORD set to play BRANCH RICKEY in Legendary Pictures' JACKIE ROBINSON biopic 42! Link coming..." The full press release from Legendary Pictures is below.Brian Helgeland wrote and will direct; this is the evolution of a Jackie Robinson film that has been kicking around Hollywood for some time. Legendary Pictures is producing, making this a rare non-genre effort for the company.
If you somehow don't know the basics of the Jackie Robinson story, which have been captured on film a few times before (once with Robinson even playing himself) I'll turn to Germain's recap from earlier this week:
Rickey and Robinson's story is one of the most important and storied in baseball history. Branch Rickey was the Dodgers GM who decided that signing Jackie Robinson as the first African-American baseball player was the right move and, on April 15, 1947, he walked on the field for the first time. The move payed off in numerous ways, both for the Dodgers and Robinson – he won the Rookie of the Year award, the National League MVP, a World Series championship and was inducted into the Hall of Fame in 1962 – and it opened the door for legions of non-white baseball players to join the Majors, changing the game forever.
Here's the press release:
Burbank, CA – December 9, 2011 – Legendary Pictures announced today that it has cast Chadwick Boseman and Harrison Ford to star in the company's film based upon history's most celebrated baseball figure, Jackie Robinson.
Boseman will depict the iconic baseball star, paying tribute to the legacy and impact Robinson made when he became the first African American Major League Baseball player.
Ford will star as Branch Rickey, the innovative Major League Baseball executive who is best known for breaking MLB's color barrier by signing Jackie Robinson to a minor league contract in 1945. Two years later, at the start of the 1947 major league baseball season, Robinson was signed to the Brooklyn Dodgers major league baseball team with the help of Rickey. Rickey was elected to the Baseball Hall of Fame in 1967.
Chadwick Boseman is best known for his performance in Universal Pictures' THE EXPRESS. Boseman also just completed a lead in the independent feature KILL HOLE. On television he was a regular on the NBC series Persons Unknown. He is represented by Michael Greene at Greene & Associates, and Melanie Cook of Ziffren Brittenham.
Ford most recently starred in COWBOYS & ALIENS and is best known for starring in the INDIANA JONES and STAR WARS franchises as well as AIR FORCE ONE and THE FUGITIVE. Ford was a Best Actor Oscar® nominee for his role in the 1985 feature film WITNESS. Ford is represented by Jim Berkus at United Talent Agency and Skip Brittenham of Ziffren Brittenham.
Brian Helgeland (LA CONFIDENTIAL / MYSTIC RIVER) will write and direct, with Legendary's Chairman and CEO, Thomas Tull, producing, and Legendary's Chief Creative Officer and President, Jon Jashni, serving as executive producer. Dick Cook, former Chairman of Walt Disney Studios, will also serve as an executive producer. Legendary worked early on in development with Robinson's widow, Rachel Robinson, to ensure the movie adaptation of the famed player's story is authentic.