'Battleship' Trailer: Berg Does Bay, And Stuff Blows Up Real Good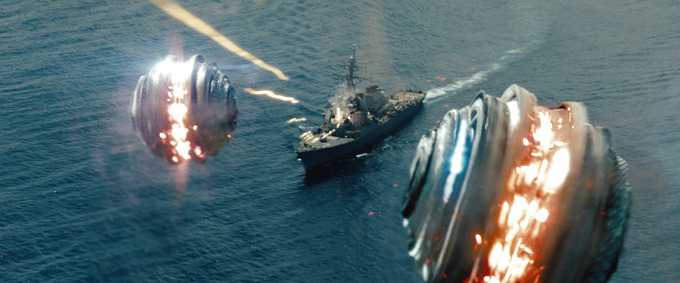 Here's the new trailer for Battleship, Peter Berg's aliens versus Navy movie that has been a great big 'WTF?' since it was first announced. The first trailer demonstrated that the film is sort of a big closed battle between humans and some sort of alien invasion, and now the new trailer shows a lot more action. We see some alien soldiers, a lot of alien tech (think Transformers) and a lot of Taylor Kitsch, Rihanna and Alexander Skarsgard as they try to fend off an unknown force that has been hiding beneath the ocean.
Check out the trailer below.
I expect that some of you will think this looks like the most badass action movie in a while, and I'll give Berg this: it's big. Really big. But Battleship also looks like Berg making a Michael Bay movie (something I've been told was basically the intention from the beginning of this project) and to me, this trailer looks exhausting.
I expect there's a little more character and story than either trailer shows off, and that the similarity to Transformers is being amped up for the trailer in order to sell the movie to the same audience that helped Dark of the Moon earn a billion dollars worldwide. But since I'm not that audience, I need to see a lot more.
I do, however, love that so much money was spent on this movie that there was nothing left over to buy a comma, as seen here:

Apple has the HD 'splosions. Battleship opens on May 18 2012.
Peter Berg (Hancock) produces and directs Battleship, an epic-scaled action-adventure that unfolds across the seas, in the skies and over land as our planet fights for survival against a superior force. Inspired by Hasbro's classic naval combat game, Battleship stars Taylor Kitsch as Lt. Alex Hopper, a Naval officer assigned to the USS John Paul Jones; Brooklyn Decker as Sam Shane, a physical therapist and Hopper's fiancee; Alexander Skarsgard as Hopper's older brother, Stone, Commanding Officer of the USS Sampson; Rihanna as Petty Officer Raikes, Hopper's crewmate and a weapons specialist on the USS John Paul Jones; and international superstar Liam Neeson as Hopper and Stone's superior (and Sam's father), Admiral Shane.