'The Dark Knight Rises' Will Feature Nearly 50 Minutes Of IMAX-Shot Footage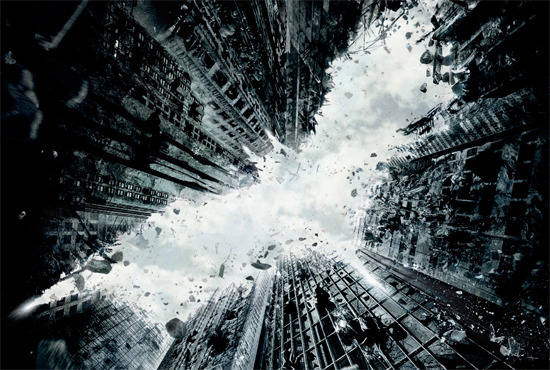 Tonight at the Hollywood presentation of The Dark Knight Rises prologue, I got an opportunity to speak briefly with director Christopher Nolan. He reiterated part of his introduction, stating that film is very special to him and that the 70mm IMAX presentation replicates the magic of going to movies from his childhood. After seeing the first 6 minutes of Rises in IMAX, I wouldn't recommend that anyone see the movie any other way (and I haven't even seen one twentieth of the movie).
And that is when I decided to ask Nolan: "just how much of his film will be presented in IMAX?" He told me that the finished film will likely have around 50 minutes of IMAX shot-and-projected footage. 50 Minutes!
To give you some perspective:
In addition to the opening 6-minute Joker introduction, there was another 20-or-so minutes of IMAX footage in The Dark Knight.
Brad Bird's Mission: Impossible – Ghost Protocol has 23-minutes of IMAX-shot footage.
Fifty-or-so minutes is roughly double the amount of IMAX footage seen in The Dark Knight. I can't stress how amazing the IMAX footage looked in the prologue. If you saw The Dark Knight in huge screen IMAX, then you might remember the feeling. I thought I remembered, but I didn't. It could be that the lackluster films which have since featured IMAX-shot footage (Transformers 2)  may have slightly tainted my memories. Seeing Batman again, on the huge screen, in the crystal clear resolution, was like seeing 3D for the first time.
The director told me that he shot as much as the movie as he could with the IMAX cameras regardless of the issues it presents. Filmmakers have been wary to use IMAX cameras during close-up sequences due to the extremely loud noise caused by camera. Any dialogue-featured footage shot with an IMAX camera surely needs ADR (the actors need to rerecord the dialogue to tape again in post production). It is clear from the prologue footage that this issue did not scare Nolan. And it could just be me, but I got the impression that Nolan was being conservative with his estimate — I wouldn't be surprised if the final count is higher.
The 7-minute Dark Knight Rises prologue will be attached to select 70mm IMAX (not Digital IMAX) prints of Mission: Impossible – Ghost Protocol on December 16th 2011 (participating theaters list).