TV Bits: 'Community' Cast Asks You To "Save Greendale," Plus: WGA And PGA Award Noms, J.J. Abrams, Goldie Hawn, Mindy Kaling, Greg Daniels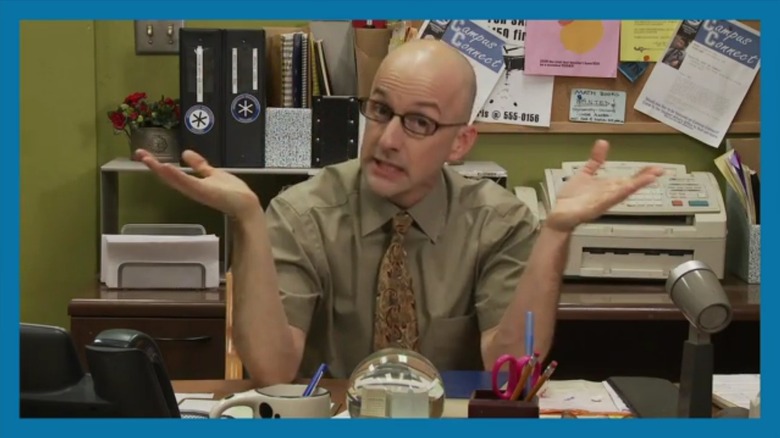 Community's hiatus starts now, but Greendale's coolest study group isn't about to go quietly. Also, people who've previously created things we like are creating other things we also hope to like. After the jump:
The Community gang makes a "Save Greendale" PSA, crashes The Soup
The WGA and PGA announce their award nominations
J.J. Abrams and One Tree Hill creator Mark Schwahn sell a drama to The CW
HBO is about to start production on The Viagra Diaries with Goldie Hawn
Parks & Recreation co-creator Greg Daniels develops two animated projects for NBC
"Due to a teensy little attendance problem, and a rather tenacious grease fire, Greendale has to close its doors for a few months," says Dean Pelton (Jim Rash). "But while we're away, we hope you won't forget all the great things Greendale has to offer."
The cast also crashed Joel McHale's other show, The Soup, to explain that Chevy Chase doesn't actually exist. I'm not really sure why Adam Scott and Nick Kroll decided to tag along as well, but I'm not about to complain.
Goodbye for now, Greendale. We'll miss you. [AV Club and Vulture]
Anyone can write a year-end top-10 list, but if you're part of an industry organization, you get to give out actual awards to your favorite picks. The Producers Guild of America and the Writers Guild of America have each announced their nominations for the PGA Awards and WGA Awards for television, respectively. For the most part, the nominees shouldn't come as a surprise to anyone who was paying attention to the Emmys — nope, there's still no Community on either of these lists, either. Sorry folks.
Homeland, Modern Family, Breaking Bad, and Boardwalk Empire led the WGA nominations with three each, while the acclaimed Game of Thrones and Mildred Pierce landed spots on the list as well. Some of the nicer surprises were nominations for Louie (for Best Comedy Series) and Jon Benjamin Has a Van (for Best Comedy/Variety Series). One past favorite that was conspicuously absent was Mad Men, but it wasn't a snub on the WGA's part — the show simply fell outside the eligibility window of December 1, 2010 – November 30, 2011. Head over to Deadline for the compete list. Winners will be announced February 19, 2012.
If the WGA Award nominations were predictable, the PGA Award nominations were even more so. As Deadline points out, "all 5 nominees in the comedy, drama and reality competition series were also nominated in the categories at the Emmy Awards." The PGA eligibility period runs from June 1, 2010 through May 31, 2011 (same as the Emmys), which left shows like Breaking Bad and Homeland out. Read the full list at Deadline. Winners will be announced January 21, 2012.
The unlikely-sounding duo of J.J. Abrams and One Tree Hill creator Mark Schwahn have sold a drama to The CW. The project will be the former's first time working with the network, though he got his start at its predecessor The WB with Felicity. Abrams and Schwahn are set to executive produce the new series, which has received a script commitment, with Bryan Burk.
Tentatively titled Maine, the show will revolve around the staff and guests of a hotel in the titular state. Though Abrams has lately become known for his sci-fi work, Maine will be a "character-driven" story along the lines of Felicity and One Tree Hill. [Deadline]
HBO is gearing up to start production on The Viagra Diaries, a comedy from Sex and the City creator Darren Star with Goldie Hawn set to star. The show marks Hawn's first onscreen role in several years; her last appearance was in the 2002 film The Banger Sisters.
Based on the novel by Barbara Rose Brooker, the series revolves around a 60something woman who finds herself single for the first time in 35 years after her husband has a midlife crisis and dumps her. So yeah, it's kind of like an older Sex and the City. [Variety]
The Office and Parks & Recreation executive producer Greg Daniels is developing two more series for NBC, but don't expect another single-camera workplace sitcom — both of these are animated comedies. One of these will be written and executive produced by Office writer/director/co-executive producer/co-star Mindy Kaling, and will revolve around a girls' high school volley ball team. Kaling will also voice one of the characters.
The other will be written and executive produced by Parks & Recreation producer Alan Yang, and will be about a group of 20something men who share a house in LA's affluent Hancock Park neighborhood. Daniels and Howard Klein will executive produce both primetime shows.
Daniels has had experience with animated series before, winning an Emmy for The Simpsons before co-creating Fox's wonderful King of the Hill with Mike Judge. In addition to the Kaling and Yang projects, Daniels also has another live-action comedy in development at NBC — a U.S. adaptation of the U.K.'s Friday Night Dinner. [Deadline]