Robert Downey Jr. Comments On 'Inherent Vice' With Paul Thomas Anderson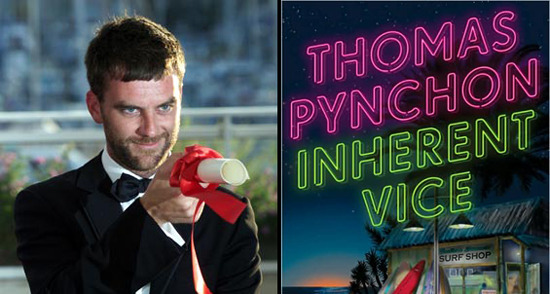 When the news broke that Robert Downey Jr. could be teaming up with Paul Thomas Anderson to make Thomas Pynchon's Inherent Vice, fans geeked out at the possibility of such an unpredictable pair teaming up for such a cool story. That was back in 2010. In February, things started to heat up but then news on the project went cold. Downey went and shot Sherlock Holmes 2, The Avengers and is now getting ready for Iron Man 3 while Anderson finally got the money to go ahead and make The Master, which will hopefully come out in 2012.
We finally have an update. Kind of. Downey recently sat down with MTV for an interview and said that the rumors of the team up are "probably true." But when could he do it? We'll show you the video and discuss after the jump.
Here's the interview snippet thanks to MTV.
Get More: Movie Trailers, Movies Blog
Seems like this team up is likely to happen, as we reported back in February. But when? Anderson finished shooting The Master a few weeks back and is currently in post-production (as per the announcement of the film's composer earlier this week). Downey will likely start shooting Iron Man 3 at the beginning of the year so, it seems like around summer, the pair's schedules might actually meet up again. Downey is attached to a few other things, but nothing that's set in stone.
To get you up to speed, here's the description of Inherent Vice:
Part noir, part psychedelic romp, all Thomas Pynchon— private eye Doc Sportello comes, occasionally, out of a marijuana haze to watch the end of an era as free love slips away and paranoia creeps in with the L.A. fog. It's been awhile since Doc Sportello has seen his ex-girlfriend. Suddenly out of nowhere she shows up with a story about a plot to kidnap a billionaire land developer whom she just happens to be in love with. Easy for her to say. It's the tail end of the psychedelic sixties in L.A., and Doc knows that "love" is another of those words going around at the moment, like "trip" or "groovy," except that this one usually leads to trouble. Despite which he soon finds himself drawn into a bizarre tangle of motives and passions whose cast of characters includes surfers, hustlers, dopers and rockers, a murderous loan shark, a tenor sax player working undercover, an ex-con with a swastika tattoo and a fondness for Ethel Merman, and a mysterious entity known as the Golden Fang, which may only be a tax dodge set up by some dentists.
How potentially exciting is this film?