Alexandre Aja To Direct Horror-Hangover Story 'Horns'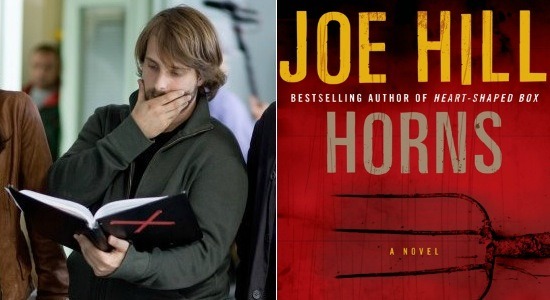 We may receive a commission on purchases made from links.
What would happen if you woke up after a big night of partying with a massive hangover, a dead girlfriend and two horns on your head? We'll soon find out when Stephen King's son, Joe Hill's, novel Horns is brought for the big screen by Piranha 3D director Alexandre Aja. Adapted by screenwriter Scott Bunin, the film is being set up at Mandate Pictures with hopes that Aja can direct it by summer 2012 before moving onto a sci-fi manga inspired film called Cobra. Read more after the jump.
The Hollywood Reporter broke the news of Aja coming on board the project, which is centered on a book published in 2010. A few months back, Shia LaBeouf was interested in both playing the lead and producing, but the latest report doesn't mention his name. Here's the Amazon description of Horns.
Ignatius Perrish spent the night drunk and doing terrible things. He woke up the next morning with a thunderous hangover, a raging headache . . . and a pair of horns growing from his temples.
At first Ig thought the horns were a hallucination, the product of a mind damaged by rage and grief. He had spent the last year in a lonely, private purgatory, following the death of his beloved, Merrin Williams, who was raped and murdered under inexplicable circumstances. A mental breakdown would have been the most natural thing in the world. But there was nothing natural about the horns, which were all too real.
Once the righteous Ig had enjoyed the life of the blessed: born into privilege, the second son of a renowned musician and younger brother of a rising late-night TV star, he had security, wealth, and a place in his community. Ig had it all, and more—he had Merrin and a love founded on shared daydreams, mutual daring, and unlikely midsummer magic.
But Merrin's death damned all that. The only suspect in the crime, Ig was never charged or tried. And he was never cleared. In the court of public opinion in Gideon, New Hampshire, Ig is and always will be guilty because his rich and connected parents pulled strings to make the investigation go away. Nothing Ig can do, nothing he can say, matters. Everyone, it seems, including God, has abandoned him. Everyone, that is, but the devil inside. . . .
Now Ig is possessed of a terrible new power to go with his terrible new look—a macabre talent he intends to use to find the monster who killed Merrin and destroyed his life. Being good.
The story sounds pretty intriguing; a dark, violent spin on The Hangover. And Hill is doing his best to live up to the giant expectations that come from being the son of probably the greatest horror writer ever.
Pairing this material with Aja seems appropriate. He's quickly becoming one of the busiest filmmakers in Hollywood. He writing movies, such as Maniac, producing, such as the potential Scanners TV show, as well as directing. As for the other film that's part of this deal, Cobra, that sounds pretty rad too. From Wikipedia:
Set in the far future, the series tells of a man called Cobra, who lived an adventurous life until his enemies began to hunt him down. Cobra surgically altered his face and erased his own memory in order to hide from his foes and lead a normal life. He soon regains his memories and re-unites with his old partner Lady Armaroid and his ship Tortuga. Cobra travels the galaxy, fighting the outlaw Pirate Guild, but also fleeing the law-enforcing Milky Way Patrol. Along with his charm and wit, Cobra survives thanks to his Psycho-Gun, a weapon embodied in his left arm.
Are you fans of Aja? Do you think he's going to bring a unique voice to these films?