Teaser Trailer For Sundance Entry 'L,' From 'Dogtooth' Writer And Cinematographer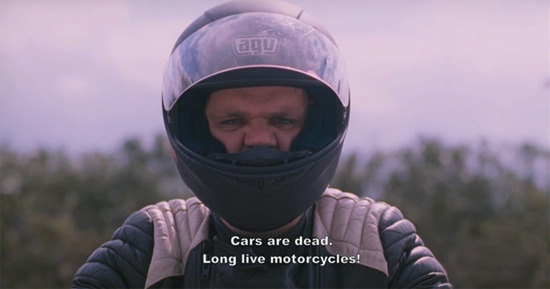 Yorgos Lanthimos got our attention with Dogtooth — hell, he got the world's attention with the film — but he isn't the only person responsible for that film and its follow-up, Alps.
Efthimis Filippou wrote both Dogtooth and Alps, and Dogtooth was shot by Thimios Bakatakis. Now there is L, directed by Babis Makridis and co-written by Filippou and shot by Bakatakis. The film is a Sundance entry, and has the tagline "What is the best vehicle in the world? A movie about walking."
Now there is also a teaser for L; it certainly displays the deft touch that Bakatakis has with lighting. And for those who are fans of Dogtooth, there is an odd sensibility here that will prove instantly endearing.
Twitch has the trailer:
Here's the synopsis from Sundance:
A man lives in his car. He's 40 and separated from his wife and kids, who live in a different car. They meet in parking lots. A professional driver, the man delivers honey to a narcoleptic man and often dreams of his friend, who was killed when a hunter mistook him for a bear. Frequently late delivering honey, the man is fired, and his driving skills are questioned. Thrust into existential uncertainty, he abandons "car life" and joins a rogue motorbike gang.
Between that info, the people involved and that little bit of footage, I am already sold. I'll be eager to hear what sort of reception the film receives at Sundance when the festival begins in a couple weeks.