Sequels We Didn't Ask For Bits: 'Grown Ups 2,' 'The Lincoln Lawyer 2,' 'Journey 3,' 'The Birdcage 2'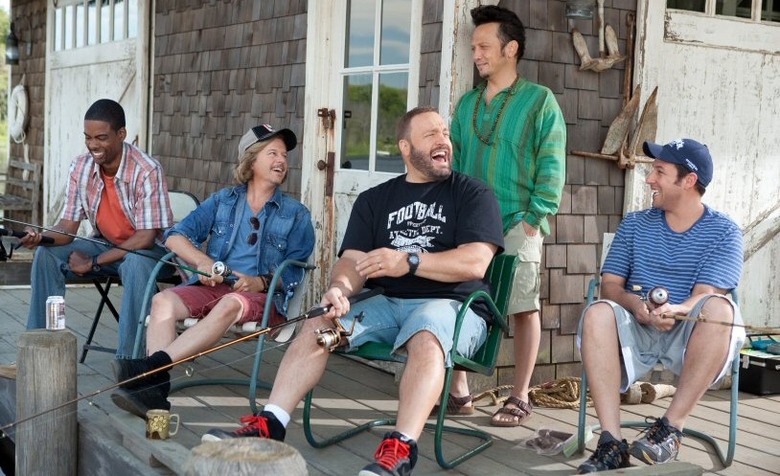 I'm not indiscriminately against sequels, but for every X-Men: First Class, Kung Fu Panda 2, or Fast Five, there's a The Hangover Part II, a Transformers: Dark of the Moon, or a Pirates of the Caribbean: On Stranger Tides. And while it's admittedly unfair to jump to conclusions about movies before they've even entered production, the sequels we're talking about today aren't exactly at the top of my most-anticipated list. After the jump, read about:
Grown Ups 2, the follow-up to last year's Happy Madison comedy
The Lincoln Lawyer 2 — and yes, that's in addition to the upcoming TV series also based on the same source material
Journey 3, a sequel to next February's Journey 2
and The Birdcage 2, fifteen years after the first Birdcage
The first film starred Sandler, Kevin James, David Spade, Chris Rock, and Rob Schneider as a group of buddies who reunite for the funeral of their youth basketball coach. Though widely panned by critics — it received just a 10% Fresh rating on Rotten Tomatoes — Grown Ups was Sandler's highest-grossing film worldwide. [Variety]
Over the summer, we reported on a TV series based on this year's The Lincoln Lawyer being developed over at ABC, but apparently Hollywood believes even that won't be enough to sate the appetites of Lincoln Lawyer fanatics. Lionsgate vice chairman Michael Burns has announced that the studio is now working on a feature-film sequel as well. Based on the novel by Michael Connelly, the first film starred Matthew McConaughey as a criminal defense attorney named Mickey Haller who works out of the backseat of a Lincoln Town Car.
Connelly and Lincoln Lawyer screenwriter John Romano are set to write and executive produce the pilot of the TV series, but Burns did not mention whether they would also be involved with the second film. March's The Lincoln Lawyer was a critical and commercial hit, so it's not tough to see why Lionsgate would revisit the character — but with a TV show already in the works, do we really need another movie about Mickey Haller, too? [Variety]
Journey 2: The Mysterious Island won't premiere until February 10, 2012, but the film's done well enough in test screenings that New Line is already thinking about the next installment of the franchise. Journey 2 director Brad Peyton, screenwriters Brian Gunn and Mark Gunn, and producers Beau Flynn, Charlotte Huggins and Tripp Vinson are all attached to return for Journey 3, but it's unclear at this point whether any of the cast (Josh Hutcherson, Dwayne Johnson, and Vanessa Hudgen) will also be coming back.
2008's Journey to the Center of the Earth was a hit, grossing $242 million worldwide on a $60 million budget, and actually drew in decent reviews as well. But the trailers for Journey 2 so far have done nothing for me at all, and I can't say I'm all that excited about the prospect of a third go-round. The first two films were both based on the classic novels by Jules Verne. [The Wrap]
Of all the unnecessary-sounding sequels we've talked about so far today, though, I don't think any seem less necessary than a The Birdcage 2. The Birdcage was enjoyable enough, but was anyone really clamoring to revisit Armand and Albert Goldman?
In a recent interview with MovieHole, star Robin Williams shot down the possibility of sequels for Good Morning Vietnam and Mrs. Doubtfire (thankfully), but revealed that there's still hope for a Birdcage sequel. "They're trying to figure out which [story] to write for that," said the actor. "We will see what happens."
The 1996 Mike Nichols-directed comedy (a remake of the film version of Jean Poiret's play La cage aux folles) centered around a gay man and his drag queen partner (Nathan Lane) who must pretend to be straight when their son (Dan Futterman) introduces them to his fiancee's (Calista Flockhart) conservative parents (Gene Hackman and Dianne Wiest). [Cinema Blend]