Geek Deal: Clint Eastwood: 35 Films 35 Years At Warner Bros Collection For Only $57.99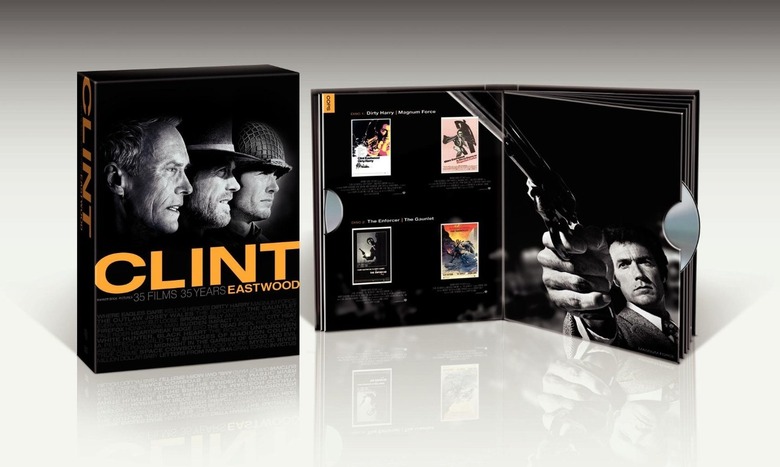 We may receive a commission on purchases made from links.
Amazon's Gold Box Deal of the Day today is Warner Bros's ultimate 35-film Clint Eastwood retrospective, which has been touted as the largest ever DVD box set featuring a single artist. Clint Eastwood: 35 Films, 35 Years at Warner Bros. contains 19-discs (16 of which are double-sided) containing 34 Warner Bros films that Eastwood either headlined and/or directed. The 35th "film" included is Eastwood Factor, a feature documentary film by critic/historian Richard Schickel. The collection contains Eastwood films from 1968's Where Eagles Dare through Gran Torino.
The set is on sale today, and TODAY ONLY, for only $57.99, 68% off the $180 list price. The price will be gone at midnight, so act fast!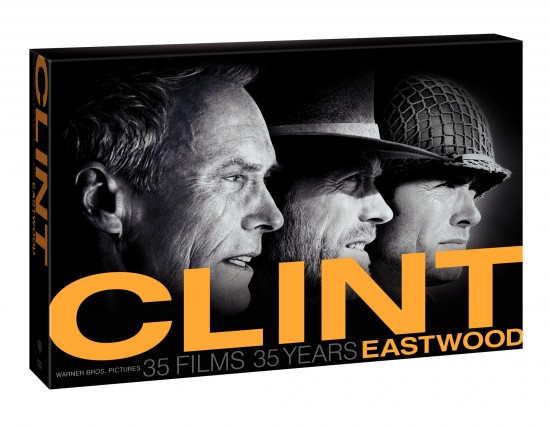 Here is a listing of the movies included in the set:
1. Where Eagles Dare, 1968
2. Kelly's Heroes, 1970
3. Dirty Harry, 1971
4. Magnum Force, 1973
5. The Enforcer, 1975
6. The Outlaw Josey Wales, 1976
7. The Gauntlet, 1977
8. Every Which Way but Loose, 1978
9. Bronco Billy, 1980
10. Any Which Way You Can, 1980
11. Honkytonk Man, 1982
12. Firefox, 1982,
13. Sudden Impact, 1983
14. City Heat, 1984
15. Tightrope, 1984
16. Pale Rider, 1985
17. Heartbreak Ridge, 1986
18. Bird, 1988
19. The Dead Pool, 1988
20. Pink Cadillac, 1989
21. White Hunter, Black Heart, 1990
22. The Rookie, 1990
23. Unforgiven, 1992
24. A Perfect World, 1993
25. The Bridges of Madison County, 1995
26. Absolute Power, 1997
27. Midnight in the Garden of Good and Evil, 1997
28. True Crime, 1999
29. Space Cowboys, 2000
30. Blood Work, 2002
31. Mystic River, 2003
32. Million Dollar Baby, 2004
33. Letters from Iwo Jima, 2006
34. Gran Torino, 2008
35. The Eastwood Factor. 2009
Here is a trailer showing the films included in the set:
Here is a video showing what is included in the set:
And here is the official press release for more information:
A Salute to a True Motion Picture Legend
Major Retrospective Celebration Throughout 2010
Your browser may not support display of this image.
Debuts February 16, 2010
Largest Single Artist Box Set Ever Includes The Eastwood Factor,
Intimate Short Film from Richard Schickel Offering a
Rare Personal Look at Eastwood, Plus Extract from
Schickel's New Book, Special Features and Memorabilia
Burbank, Calif., November 30, 2009 — Clint Eastwood's illustrious motion picture career has spanned more than a half century and has touched generations of filmgoers. The filmmaker/actor has won five Academy Awards®, and his films have grossed nearly $2 billion at the domestic box office. Warner Home Video (WHV) will celebrate Eastwood and his 35-year association with the studio through Malpaso Productions with a comprehensive, elegant giftset, Clint Eastwood: 35 Films 35 Years at Warner Bros., to be released February 16, 2010.
The collection, considered the largest feature film box set ever released for a single artist, contains 34 classic Eastwood films from the Warner library and highlights the breadth and depth of his work — from Where Eagles Dare through Gran Torino. Included are his "Dirty Harry" movies, his Best Picture Oscar® dramas and nominees, his Westerns, his war movies, his comedies, and more. (A complete list is available at the end of this release.)
The 35th film is The Eastwood Factor, an intimate short film from Time magazine critic and film historian Richard Schickel. The Eastwood Factor presents Eastwood in a way he's rarely seen — visiting film locations or sites where his movies were created, and on the Warner lot visiting the costume department and Eastwood Scoring Stage, as well as at his home. Eastwood's candid, intelligent and often humorous interviews about his body of work and the choices he made, along with Schickel's selection of scenes from his movies (including his upcoming Invictus), results in an up-close and personal portrait of one of the great icons of our era. The end result is a clear reminder of why Eastwood's career as both a great filmmaker and actor has been so enduring and his work so respected.
"I've known Clint for most of the time he's been at Warner Bros.," said Schickel. "I was fortunate to be able to wander around the Warner lot with him and hear his reminiscences. To be able to show him in the places where he works and lives and feels most comfortable is, I think, a unique opportunity."
A sampling of the documentary is scheduled to run on a minimum of 10,000 screens nationwide in the first quarter of 2010. Additional moments from this remarkable retrospective of Eastwood's career will be glimpsed over the course of the media campaign in support of the release.
The box set will also include a 24-page booklet extracted from Richard Schickel's new monograph Clint: A Retrospective, as well as Studio letters and photos. Packaged in a
20-page double-wide album, Clint Eastwood: 35 Films 35 Years at Warner Bros. will contain 19 discs and will sell for $179.98 SRP. Orders are due January 12.
Select titles from Clint Eastwood: 35 Films 35 Years at Warner Bros. will also be available for download via iTunes, Xbox Live, Zune Marketplace, Amazon Video on Demand and other digital retailers.
The full 288-page book from Richard Schickel, entitled Clint: A Retrospective, will be published at the end of February/early March by Sterling Publishing Inc. This definitive appraisal contains 325 photographs, meticulously researched from Warner Bros.' files and other key image archives. It is Schickel's homage to the actor who, Schickel says, has most inspired him as a critic over the years. Eastwood himself provides an introduction. A 20-minute version of the full-length documentary will accompany the book, which will also be released in all English-speaking territories overseas. Translations by major publishers will follow in France, Germany, Finland, Sweden, Spain and Japan.
In making the announcement, Jeff Baker, WHV's Executive VP and General Manager, Theatrical Catalog said, "There is not much you can say that hasn't already been said about this amazingly talented man. We are so proud to have had such a longstanding association with Clint, and we're delighted to be releasing this major collection so both loyal fans and those newly discovering Clint can enjoy his wonderful body of work."
Eastwood's relationship with Warner Bros. began in 1975 with the signing of a long-term pact, and Eastwood's Malpaso Productions moved onto the studio's storied lot. Among the many awards the actor/filmmaker has received for his work are four Oscars® and 11 nominations, including Best Picture and Best Director Academy Award® wins for Unforgiven and Million Dollar Baby, both of which were made at Warner Bros. Eastwood has also received five Golden Globes®, countless critics association accolades and Lifetime Achievement awards from, among others, the Directors Guild of America, Screen Actors Guild, the American Film Institute and the Hollywood Foreign Press Association (Cecil B. DeMille Award). In addition, the Academy of Motion Picture Arts and Sciences presented him with the Irving G. Thalberg Memorial Award. Recently, Eastwood was made a commander in the prestigious French Legion of Honor (Légion d'honneur), cited for his "body of work, his longevity and his ability to delight audiences around the globe."
Early in his career, Eastwood starred as the "Man with No Name" in A Fistful of Dollars, his first "spaghetti western," which was a box office success and drew attention to the young actor. Additional roles followed, including the role of Harry Callahan in five "Dirty Harry" films, beginning in 1971. That same year, he made his directorial debut with Play Misty for Me. Other noted Eastwood films include the Charlie Parker biography Bird; The Bridges of Madison County; In the Line of Fire; Midnight in the Garden of Good and Evil; White Hunter, Black Heart; Absolute Power; Space Cowboys; Mystic River; Flags of Our Fathers; Letters from Iwo Jima; and, most recently, Gran Torino. His newest film, Invictus, stars Oscar® winners Morgan Freeman and Matt Damon in the inspiring true story of how Nelson Mandela joined forces with Francois Pienaar, captain of South Africa's rugby team, to help unite their country.