TV Bits: Vince Gilligan Has No Idea How 'Breaking Bad' Will End, Plus: Aaron Sorkin, 'New Girl', 'Up All Night', Syfy's 'Defiance'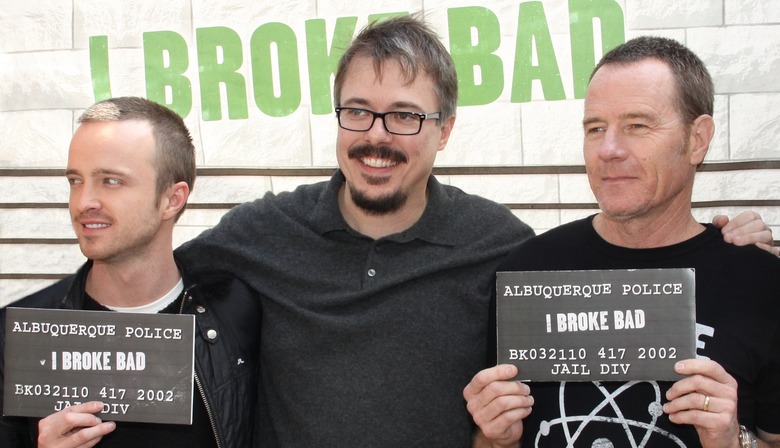 Whether you're a new parent or a singleton, whether you're into video games, drugs, cable news, there's a little something for everyone in this rather random edition of TV Bits. After the jump:
Breaking Bad showrunner Vince Gilligan admits has no idea how his AMC series will end
SyFy taps Legion helmer Scott Stewart to direct video game-related series Defiance
Aaron Sorkin's HBO drama, formerly known as More As This Story Develops, may have a new title
ABC's Up All Night and Fox's New Girl land guest stars from 30 Rock and True Blood, respectively
Gilligan's lack of a plan is actually nothing new for the show. He's talked in the past about the writing team "actively try[ing] to paint ourselves into corners at the end of episodes – at the end of seasons, at the end of scenes sometimes," and so far it's worked out beautifully for them. However, writing the ending of a popular series brings its own set of challenges. It's all too easy to recall recent examples of finales that left fans confused, disappointed, or even irate, and Gilligan says he definitely feels the pressure.
"[I]t keeps me awake at night. It gives me nightmares. The closer we get to the final episode, I assume the worse it'll be," he told Today.com. "But that's why we're ending after 16. You want to go out with fans of the show still being fans. The best we can do is be disciplined and honest in our storytelling, and not go for the bells and whistles. Let the chips fall where they may."
Breaking Bad's fifth season is scheduled to enter production early next year, and will premiere sometime in 2012. [TV Overmind]Aaron Sorkin's new TV series found a home at HBO back in September, but it wasn't until this week that the show finally found a name. Formerly titled More as This Story Develops, the drama is now expected to be called either Newsroom or The Newsroom, according to a report by TVNewser. (HBO hasn't quite decided.) Another straightforward, no-nonsense title from the creator of Sports Night and The West Wing.(The) Newsroom will center around the goings-on of a fictional cable news series called News Night, led by anchor Will McCallister (Jeff Daniels). Within the world of the show, News Night's (made-up) network UBS is considered a competitor to CNN, MSNBC, and Fox News.
TVNewser also posted a very brief scene from the script, in which McCallister argues with his boss, UBS News president Charlie Skinner (Sam Waterston):
Will: Charlie, I can't go after Halliburton and miss.
Charlie: Oh report the goddam news, Will.Will: You remember a guy named Dan Rather?Charlie: Dan got it right.Will: He's no longer on television.
Ah, I can hear that Sorkinesque rhythm already. (The) Newsroom is set to debut in September with a pilot directed by Greg Mottola. [Time]
Scott Stewart, director of Priest and Legion, is set to make his TV directing debut with Syfy's Defiance. Written by Rockne S. O'Bannon (Farscape, SeaQuest), the upcoming series will be linked to the Trion Worlds MMO of the same title, with events from the show reflecting those in the game and vice versa. The combined experience is being touted by both companies as "the first multi-platform shooter MMO which, in a ground-breaking entertainment experience, interconnects with a global television program."
Stewart's two previous features haven't exactly been critical hits, but who knows — maybe he'll have better luck on the small screen. The idea of an interlinking game/TV series is certainly a creative one, and Defiance seems worth keeping an eye on for that reason alone. [Variety]
Finally, we have a couple of small but fun bits of guest star casting news. NBC has cast Dean Winters — better known as Beeper King Dennis Duffy from 30 Rock and "Mayhem" from those Allstate commercials — to play the competitive brother of Will Arnett's Chris on the freshman sitcom Up All Night in an episode scheduled for early 2012. Okay, so no one's ever going to beat Jason Bateman and Tony Hale in the "best people who've ever played Will Arnett's brother" category, but I kind of love the idea of Liz Lemon's ex being brothers with Jack Donaghy's nemesis.
Meanwhile, over at Fox, New Girl's Jess (Zooey Deschanel) may be having a one-night stand with True Blood's Ryan Kwanten (a.k.a. Jason Stackhouse) in the Valentine's Day episode of the show after the two meet at a bar. Problem is, Kwanten's character Oliver turns out to be spectacularly dull. The same episode will also feature Party Down star Lizzy Caplan, who'll be playing a possible love interest to Jake Johnson's Nick. [TV Line]