Watch THR's Hour Long Interview With 2011's Award-Worthy Writers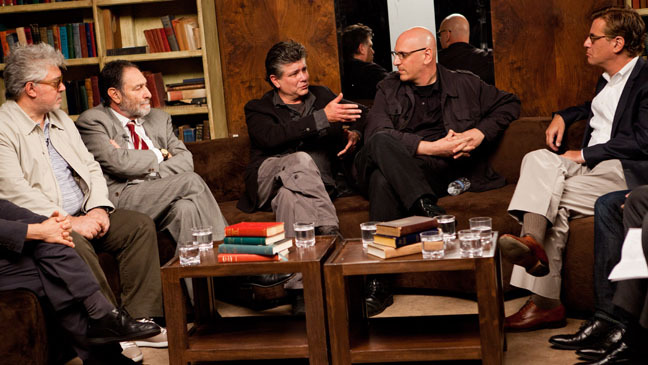 Every year during awards season, The Hollywood Reporter somehow organizes the schedules of basically every single actor, actress, writer and director of the year's best films to sit down and discuss them. This, in itself, is pretty spectacular. What's even better is they release the videos of the full conversations so we can watch. For the 2011 Writers' Roundtable, they've brought together Moneyball's Steve Zaillan and Aaron Sorkin, The Skin I Live In's Pedro Almodovar, J. Edgar's Dustin Lance Black, Rampart's Oren Moverman and Extremely Loud and Incredibly Close's Eric Roth to discuss their own, and each others', scripts, all of which have a good shot at multiple award nominations. Check out the video after the jump.
Thanks to The Hollywood Reporter for this awesome video.
We also just posted the director's roundtable, which you can watch here, the actors here, actresses here and if you don't want to watch the full roundtable above, click here for clips.
Like the other groups the Hollywood Reporter brought together, these are a mixed bag. The Moneyball team will likely get nomination, if not for that movie for other projects, Almodovar's script is fantastic and while Dustin Lance Black already has an Oscar, no one seemed too blown away by his J. Edgar script. Then there's Rampart which hasn't gotten too much buzz and no one has really seen Extremely Loud and Incredibly Close yet. Each of these guys are great writers with unique talents but I sincerely doubt a large percentage of them will get Oscar nominations. I guess we'll have to wait and see.
Do you think some of the ten Best Screenplay nominees will come solely out of this group? Are there were any obvious omissions?