More Details About The Wachowski/Tykwer Film 'Cloud Atlas,' Which Could Become A New Model For Funding Ambitious Movies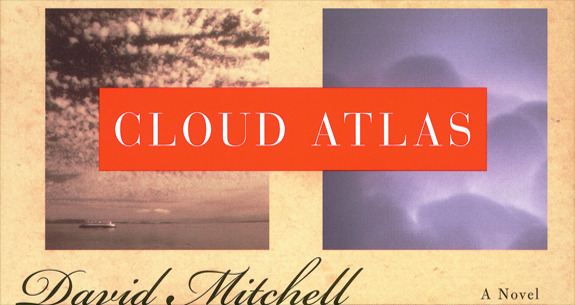 From the very beginning, the Andy and Lana Wachowski & Tom Tykwer adaptation of the David Mitchell novel Cloud Atlas has sounded pretty crazy. There's the simple fact that the book is built out of six stories, each of which follows a different set of characters and is based on a different genre of storytelling. (You'll find a '70s thriller, a post-apocalyptic story of rebuilding civilization, a parable about corporate-controlled society, and more.) Some of the characters are releated to others in different stories, and there's the idea that one soul connects all the tales. That's just the book!
The film features a massive cast, including Tom Hanks, Halle Berry, Hugo Weaving, Ben Whishaw, Susan Sarandon, Jim Broadbent, Hugh Grant and Bae Doona. We know that many cast members are playing multiple characters in different stories, sometimes changing race and gender. And the film is being shot in two parallel halves, with Tom Tykwer directing three stories and the Wachowskis directing three. This movie might be a wreck, but if so it will still be the most fascinating wreck of 2012. And if it is good it might be remarkable.
In a new piece that focuses on the unconventional funding model for the movie, we get a bit more info about who's directing what, and what characters at least one of the actors is playing.
We've surmised thanks to set photos that Halle Berry plays the title character in the story called 'Half-Lives: The First Luisa Rey Mystery,' and that Tom Tykwer is directing that one.
Now a New York Times report lets us know that Berry is also playing "a Jewish woman from the '30s," under the direction of Tom Tykwer, which means he is also making 'Letters from Zedelghem,' the story of a young musician who takes a job working for an irascible old composer. She also plays "an old tribal woman" for the Wachowskis, which suggests she's got a role in 'Sloosha's Crossin' an' Ev'rythin' After,' the post-apocalyptic tale set in a distant future.
There aren't other hints to what actors play in the different stories, but Berry is quoted saying,
Some days I go into the trailer, I'll be having a conversation — I won't even know it's with Hugh Grant until five minutes in.
That's pretty wild; I can't wait to see how some of these actors are used to fill out roles for which you'd never think they'd be suited.
The bulk of the NYT piece, however, is focused on the unusual financing of the film, which ended up being a mix of money from South Korea, Germany, Singapore, China and a bit from Warner Bros., which will distribute the film in the us. As the basic desciption of the book and the unusual filming methodology make clear, this is not a routine movie, and the financing is appropriately sourced from seemingly disparate sources. (The Asian money, says the NYT, was the result of a certain cultural interest in that idea that one soul travels through all six stories.)
The obvious question is: will this be the finding model for similarly ambitious films going forward? (I bet Warner Bros. would like to go back in time and apply this sort of money-gathering idea to Sucker Punch.) Without the money coming from many different sources, in a pattern that makes Cloud Atlas look like a gigantic indie movie, the film would never get made.
Even the parallel units were born out of financing, as the filmmakers realized they'd be more likely to get big actors for little money if the shoot didn't take months and months to complete.
Tykwer and the Wachowskis refused to be interviewed, but distributor Victor Loewy, who saw the six minutes the directors showed recently at the American Film Market, says Cloud Atlas "looks phantasmagorical... It's so unlike anything I've seen in 40 years in this business."
Here's the description of the novel:
A reluctant voyager crossing the Pacific in 1850; a disinherited composer blagging a precarious livelihood in between-the-wars Belgium; a high-minded journalist in Governor Reagan's California; a vanity publisher fleeing his gangland creditors; a genetically modified "dinery server" on death-row; and Zachry, a young Pacific Islander witnessing the nightfall of science and civilization — the narrators of Cloud Atlas hear each other's echoes down the corridor of history, and their destinies are changed in ways great and small.