'Comic Con Episode IV: A Fan's Hope' To Be Released Spring 2012 With Mini-Traveling Comic Con Tour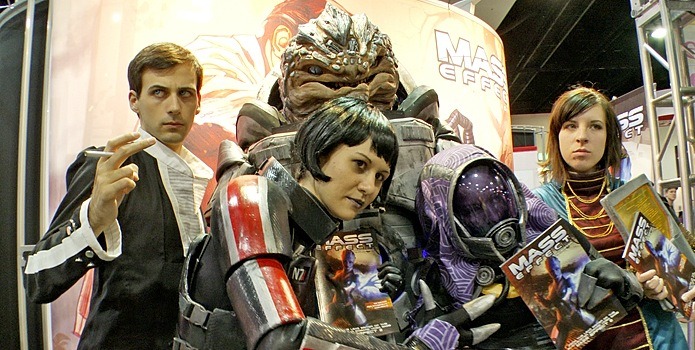 Morgan Spurlock's latest documentary Comic Con Episode IV: A Fan's Hope was one of Peter's favorite movies at Toronto and one of my favorite movies of Fantastic Fest. It's a totally different film for the Super Size Me director as he stays off camera and follows several unique people on their journey to the mecca of pop culture, San Diego Comic-Con. In doing so , Spurlock dissects not only why Comic Con is such an amazing event, but why we geeks love what we love. The film is beautiful, inspiring, funny and, up until today, had only played at festivals.
That'll change next year because Wrekin Hill Entertainment and the National Entertainment Collectibles Association have acquired the film for theatrical distribution in Spring 2012. In addition, the film will tour larger venue and bring audiences outside of San Diego their own kind of mini-Comic-Con experience complete with Q&A's, contests, presentations, collectibles and more. The full press release and some thoughts are after the jump.
A film like Comic Con Episode IV: A Fan's Hope was never going to be a massive, mainstream hit. It was made for and by fans of pop culture (For example, Harry Knowles is a producer and Stan Lee and Joss Whedon's names are on it) so this release makes perfect sense. Not only is the film a love letter to Comic-Con, it's a love letter to fandom and the idea that audiences nationwide will be able to see the film and then get a experience akin to Comic-Con following it is very exciting. It's almost like what Kevin Smith did with Red State – show the film and give audiences something they wouldn't just get if they were just going to the theater. As more details on this are released, I hope to find out there are exclusive toys, premiere footage, filmmakers not related to this movie taking about their upcoming projects. As much as possible to really give audience members a Hall H, Comic Con experience.
That's not to say just seeing the movie on it's own isn't good too. It's a movie that I can't wait to own and share with people who ask me why I get so excited for Comic-Con every year. After watching this, it'll be pretty obvious.
Here's the full press release thanks to Deadline.
Chris Ball, President and CEO of LA-based film production and distribution company Wrekin Hill Entertainment, and Joel Weinshanker, President and CEO of the National Entertainment Collectibles Association (NECA), a movie merchandising powerhouse that has become an essential tastemaker for the all-important Fanboy culture, announced today that they have jointly acquired Academy Award-nominated filmmaker Morgan Spurlock's fanboy documentary COMIC-CON EPISODE IV – A FAN'S HOPE. The film will be released theatrically in Spring 2012 in conjunction with a multi-city tour of the film with major events for film and merchandising fans across the nation. Additionally, as a supplement to Wrekin Hill and NECA's plans, the film will screen at various fan gatherings and have an online presence via one of the film's producers, Thomas Tull, and his Legendary Entertainment.
"As a young kid growing up in West Virginia, I was obsessed with comic books and horror films so the first time I ever attended Comic-Con in the summer of 2009 was a dream come true for me. I was blown away by the passion and the creativity there — the panels, parades, costumes, crowds and camaraderie that makes Comic-Con one of the largest cultural events in America," said Spurlock. "As a filmmaker, I felt compelled to show audiences what Comic-Con is all about and I am now excited to have the film in the hands of Wrekin Hill and NECA to help do that."
Presented by Stan Lee and Joss Whedon, COMIC-CON EPISODE IV – A FAN'S HOPE takes a behind-the-scenes look at this amazing cultural phenomenon where fans gather by the tens of thousands annually to attend the ultimate geek mecca in San Diego — a fringe comic book convention that has grown into the pop culture event of the year. The film was produced by Spurlock, Jeremy Chilnick, Matthew Galkin, Harry Knowles and Thomas Tull; and written by Spurlock and Chilnick.
"I have been a Morgan Spurlock fan ever since SUPER SIZE ME, and this film – which wowed audiences at the 2011 Toronto Film Festival – should win over additional fans for Spurlock's fascinating look at what has become the Superbowl of fanboy events," says Ball.
"In the spirit of the film, we plan to go out on the road with the filmmakers to cities across the country so that fans and audiences can see the film in large theaters and small arenas, with Q&As, contests, give-aways and all sorts of special cultural presentations," says Weinshanker.
The Spurlock acquisition marks the latest joint acquisition by Wrekin Hill and NECA as part of a strategic partnership whereby the two companies will join to distribute four to five titles theatrically each year. Previous titles this year have included Spencer Susser's HESHER, starring Joseph Gordon-Levitt, Natalie Portman, and Rainn Wilson; Alexandre O. Phillipe's documentary comedy THE PEOPLE VS GEORGE LUCAS and writer/director J.B. Ghuman Jr's colorful and foul-mouthed musical comedy SPORK.
Ball and Rene Cogan negotiated the deal for Wrekin Hill with Weinshanker at NECA, with attorney Gary Hirsch representing both Wrekin Hill and NECA, and CAA handling the deal on behalf of the filmmakers.