'Extremely Loud And Incredibly Close' Trailer #2: Searching For Family In A Scarred City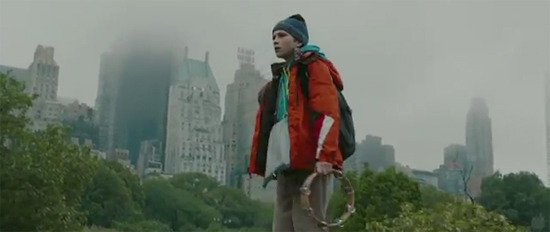 The first trailer for Stephen Daldry's adaptation of Jonathan Safran Foer's novel Extremely Loud and Incredibly Close tried to live in the area between quirky, endearing and sentimental. The balance didn't work for me, especially thanks to the reliance on U2 as the score for the trailer. As a result I think that first look at the movie pegged it as little more than cloying Oscar bait.
Now there is a new trailer that goes straight for the sentiment by opening with the character played by Tom Hanks calling his wife, played by Sandra Bullock, from one of the high floors of the World Trade Center on the morning of 9/11. From there, the trailer swirls into minor portraits of some of the film's characters and situations as it follows that couple's son (newcomer Thomas Horn) through the turbulent days that follow 9/11, but there still isn't much explanation of the story. See for yourself below.
This trailer doesn't work any better for me than the first one did, but I still think there is a good movie in here. I see glimmers of performances and interactions between the characters that make me want to see the movie, even if the marketing focus is on the biggest, most easily salable moments.
Apple has the HD trailer.Warner Bros. will release the film limited on Christmas Day, with a wider January 20 opening.
Based on the acclaimed novel of the same name, "Extremely Loud & Incredibly Close" tells the story of one young boy's journey from heartbreaking loss to the healing power of self-discovery, set against the backdrop of the tragicevents of September 11. Eleven-year-old Oskar Schell is an exceptional child: amateur inventor, Francophile, pacifist. And after finding a mysterious key that belonged to his father, who died in the World Trade Center on 9/11, he embarks on an exceptional journey–an urgent, secret search through the five boroughs of New York. As Oskar roams the city, he encounters a motley assortment of humanity, who are all survivors in their own ways. Ultimately, Oskar's journey ends where it began, but with the solace of that most human experience: love.