Rumor: Universal Orlando's 'Jaws' Will Be Replaced With 'Harry Potter's' London, Diagon Alley And The Hogwarts Express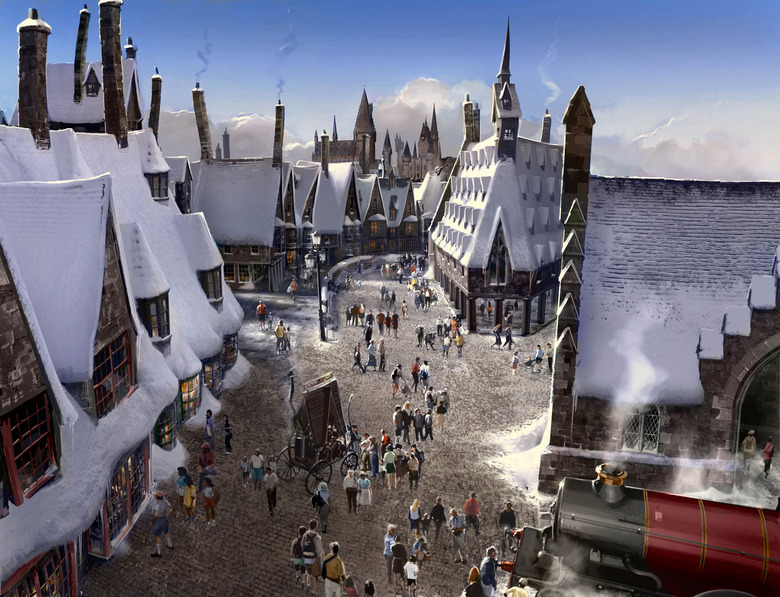 The Internet was a buzz on Friday with the inevitable news that Universal Studios Orlando will be closing their classic Jaws themed ride come 2012. At the time, Universal would only comment by saying the ride was being closed to "make room for an exciting, NEW, experience." Speculation immediately began running rampant among theme park enthusiasts as to what this new experience could be and most seemed to agree that closing the Jaws ride would allow Universal to spread the hit attraction The Wizarding World of Harry Potter into Universal itself. The expansion would be a London themed location including Diagon Alley, The Leaky Cauldron, Gringotts and King's Cross complete with Platform 9 3/4.
Adding to the debate is a recent quote by a Comcast executive that called The Wizarding World of Harry Potter a "reset mechanism" for their parks. Read more about all of this after the break.
The rumor of the new Wizarding World of Harry Potter expansion out of Islands of Adventure and into Universal proper comes from the theme park website ScreamScape. Here's a sample:
If my various sources are correct, the Amity / Jaws area will be replaced by the proposed Phase 2 expansion of the Wizarding World of Harry Potter. Now, before you flip out... lets go over it all, because for starters this really isn't going to be the Wizarding World of Harry Potter at all.  Instead, from what I've been able to gather, the new land to be build in Universal Studios Florida will actually represent the "London" side of the PotterVerse... including an entrance to the infamous Diagon Alley.
Diagon Alley, as seen in the movies, is home to infamous locations such as The Leaky Cauldron, Gringott's Wizarding Bank and the true Ollivanders wand shop location, as seen in the films. The London location is also said to be home to King's Cross station, where students would board the Hogwarts Express train from Platform 9 ¾.
Many of these locations have been mentioned in the rumored development plans for Phase 2 of the Wizarding World for months now, including an innovative indoor dark coaster ride said to take place inside Gringott's Wizarding Bank. It's no secret that the Wizarding World has been popular...so much so that it needed to be expanded to spread out the crowds, and come up with a way to provide new locations for guests to buy Butterbeer, Ollivanders wands and more. But it seems that Universal Creative really decided to try a new idea... and think really outside the box this time.  Literally... because this new expansion is going to allow for guests in both parks to get a taste of the PotterVerse... but to get the ENTIRE experience, you'd going to have to have a 2-park ticket.
Ahh, there it is. Force people to buy the two park ticket to see all the Harry Potter. That certainly sounds like a "reset mechanism," as per the words of Comcast CFO Mike Angelakis over at Deadline. By saying that, he alluded that park was so successful it has made them rethink their other locations, and ways to make money from them. Such as building a Wizarding World in Hollywood.
Back to Orlando, though. The other rumor is that at King's Cross, people who have passes for both parks will be able to catch a working Hogwarts Express and ride it in between. And they also believe, in addition to the rumored Gringotts ride, a 3D ride could be built there too.
If you're a fan of Harry Potter, this is all terrible exciting. With a rumored 2014 opening date for this potential area, expect an official announcement soon. If it's true, of course.