Dwayne Johnson Could Star In Michael Bay's 'Pain And Gain'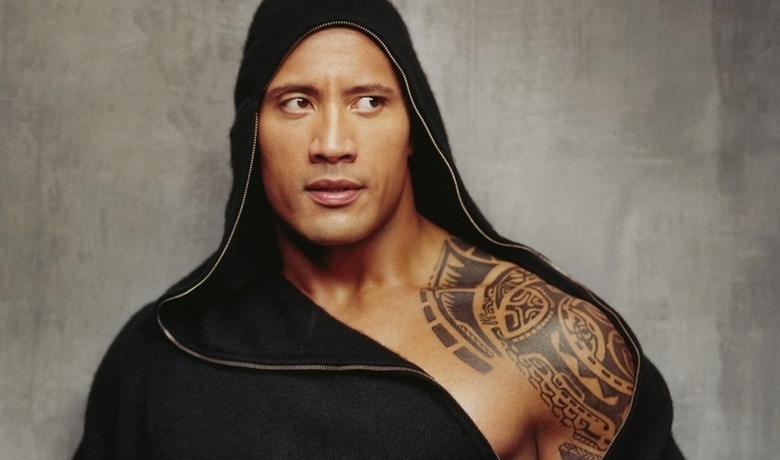 [UPDATE: According to Variety's Jeff Snieder, Mark Wahlberg has officially passed on this film. Headline and photo updated. Original article follows.]
Even though Steven Spielberg, Hasbro and a legion of robot fans want Michael Bay to make a fourth Transformers, after three in a row, he's earned the right to do a film for himself. That movie will be a dark comedy called Pain and Gain, based on the true story of two Miami bodybuilders who get wrapped up in a world of crime. Pumping Iron meets Fargo. It'll reportedly "only" cost $20 million and Bay is now close to locking down his two leads. Variety reports talks are well underway between Bay and both Dwayne "The Rock" Johnson and Mark Wahlberg however, with Wahlberg kind of busy, Johnson is closer to locking a deal down. Read more after the jump.
According to Variety's exclusive story, Wahlberg and Johnson have both discussed the project with Bay and, one would assume, like the script written by Captain America writers Christopher Markus and Stephen McFeely. The director is hoping to shoot the movie in the Spring which will be tough considering Wahlberg has several projects, including 2 Guns and Three Mississippi almost ready to go after Broken City, which is now underway. Johnson also has a few films lined up to be shot including the back to back sixth and seventh Fast and Furious movies as well as Snitch. Each also has a ton of spring/summer press to do for films like Contraband, Journey 2, Ted and G.I. Joe: Retaliation.
In a recent interview with several journalists, including Peter, Bay talked a little bit about the project:
Michael: I want to do this Pain and Gain thing that I keep talking about. I want to do that. It's a very kind of Pulp Fiction-y true story of these boneheads looking for the American dream in...
Question: You've been developing it for a while. Are you happy with the script?Michael: Yeah, yeah. A lot of actors have gravitated over the years. It's a fun script. So something fun to shoot fast.
If he can shoot it fast, it seems plausible that both actors could fit it in their schedule.
[EDIT - Thanks to JoBlo's Mike Sampson, we can now link you to the original Miami New Times article the film is based on.]
Do you think these two would be good in a small budget Michael Bay movie?