'Kick-Ass' Writer Jane Goldman To Pen Tim Burton's 'Miss Peregrine's Home For Peculiar Children'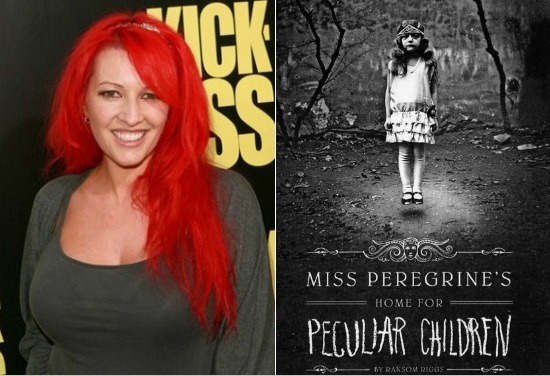 Jane Goldman rules. With her great accent, awesome red hair, and big, beautiful...talent, she's becoming one of the most exciting screenwriters in Hollywood. She's co-written Stardust, Kick-Ass, The Debt and X-Men: First Class with Matthew Vaughn, she's got The Woman in Black starring Daniel Radcliffe coming soon and now Deadline reports she's in talks to adapt the book Miss Peregrine's Home For Peculiar Children, possibly for director Tim Burton.Deadline's article makes it clear that Burton hasn't completely committed to the project, but it's a priority for 20th Century Fox, especially because they hope Goldman will team with Vaughn to assist with the X-Men: First Class sequel.
As per Russ's initial article on Miss Peregrine, it's "the story of an old orphanage and its strange and possibly dangerous residents" and the original book, by Ransom Riggs blends that story with a bunch of old photographs that are very much in line with Burton's visual signature from films like Edward Scissorhands, Beetlejuice and Batman.
Here's the official description:
A mysterious island. An abandoned orphanage. A strange collection of very curious photographs. It all waits to be discovered in Miss Peregrine's Home for Peculiar Children, an unforgettable novel that mixes fiction and photography in a thrilling reading experience. As our story opens, a horrific family tragedy sets sixteen-year-old Jacob journeying to a remote island off the coast of Wales, where he discovers the crumbling ruins of Miss Peregrine's Home for Peculiar Children. As Jacob explores its abandoned bedrooms and hallways, it becomes clear that the children were more than just peculiar. They may have been dangerous. They may have been quarantined on a deserted island for good reason. And somehow—impossible though it seems—they may still be alive.
Burton has two films that he's actually working on (Dark Shadows and Frankenweenie) both out in 2012 and, after that, this might be his next thing. Or not. Much probably depends on Goldman's adaptation.