'The Grey' Theatrical Trailer: Liam Neeson Vs. Wolves Round 2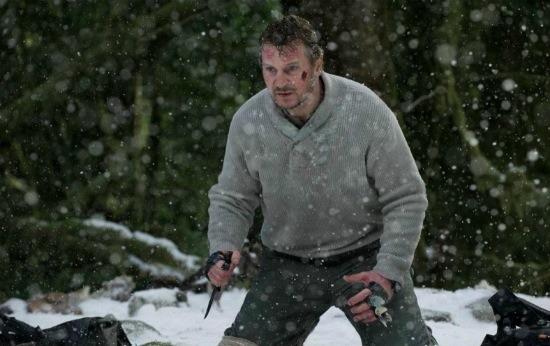 The teaser trailer for The Grey, Joe Carnahan's man vs. wolf survival action story starring Liam Neeson, concluded with an epic showdown featuring Neeson getting ready to fight a wolf with broken mini-bar booze bottles taped to his hands. Basically, it was amazing. This brand-new theatrical trailer ends the exact same way but, before it gets there, we're given a much better sense of the scope of the story and fear that the characters played by Dallas Roberts, James Badge Dale, Dermot Mulroney, Frank Grillo, Nonso Anozie, and Joe Anderson must face. It open January 27, 2012 and you can watch this full theatrical trailer after the jump.
Thanks to Moviefone for the trailer. Here it goes.
Now that we've seen more of the plane crash that strands this group of blue collar guys in the middle of Alaska, it's hard not to think of J.J. Abrams' pilot for Lost. The editing, the shot of Neeson's character walking over a hill to discover the massive wreck, the whole thing screams Lost, but set in the snow. Also revealed in the trailer is that Neeson's character isn't part of the oil-rigging group, he's added security. I'm not sure how I feel about that. Over the course of the movie I'm sure it makes sense that these men need specialized security but, from this small glimpse, I just felt it was an easy way to explain why a character knows so much about wolves.
And let's talk about the wolves. Some of the shots in this trailer look pretty CGI'd. That's where I think this whole film hinges. We know Carnahan can build tension and shoot action. We know Neeson can command the screen. But if we think they're fighting a bunch of zeroes and ones as opposed to ravenous, man eating wolves, there's going to be a problem.
This trailer entertained me and I'm willing to give it the benefit of the doubt. What did you think of the theatrical trailer for The Grey?