TV Bits: Will Seasons 3 And 4 Of 'Game Of Thrones' Shoot Back To Back? Plus: 'Dallas', 'Alcatraz', 'Napoleon Dynamite', 'Touch', And More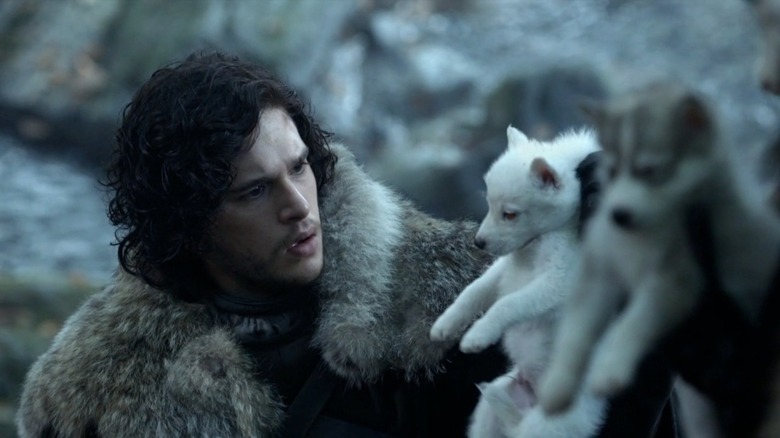 Today's TV Bits happens to be a bit heavy on Game of Thrones, but there's plenty of other good stuff in here too, I promise. After the jump:
Rumor has it HBO plans to renew Game of Thrones for Seasons 3 and 4, and shoot them back-to-back
Also, we've got shots of Kit Harrington on the GoT set in Iceland
Plus, Maisie Williams explains Arya Stark's new look for Season 2 of GoT
TNT drops an extended sneak peek of its upcoming drama Dallas — yes, as in that Dallas
Fox announces its midseason schedule, including premiere dates for Napoleon Dynamite, Alcatraz, and Touch
Original stars Patrick Duffy, Linda Gray, and, of course, Larry Hagman are all on board to reprise their roles, while Josh Henderson, Jesse Metcalfe, Jordana Brewster, Julie Gonzalo, and Brenda Strong will star as new characters. Watch the preview below.
Dallas will return on TNT in Summer 2012. [Coming Soon]
Fox has just announced its midseason lineup, which includes a handful of returning favorites as well as several highly anticipated freshman series. Here's a rundown of premiere dates for the new stuff:
Thursday, January 12 is the start date for Bones spinoff The Finder, which will premiere at 9 PM after a repeat episode of Bones. In the following week, The Finder will air after American Idol.
Sunday, January 15 marks the debut of Napoleon Dynamite, the animated series based on Jared Hess' 2004 film. Starting January 29, the series will air Sundays at 8:30, right after The Simpsons.
Monday, January 16 will see the two-hour premiere of J.J. Abrams' Alcatraz, which will then settle into a 9 PM timeslot after House starting January 23 until it ends its season with a two-hour finale on March 12.
Monday, March 19 brings the first episode of the Kiefer Sutherland-starring Touch, though eager would-be fans can get a head start with a special preview of the first episode on January 25 at 9 PM.
Meanwhile, American Idol is set to return for its 11th season with a two-night premiere on January 18 and 19; the miraculously resurrected Breaking In will air Tuesdays at 8 beginning March 6; and season 2 of Bob's Burgers will take over Napoleon Dynamite's timeslot starting March 11. [Variety]
And now it's time to move on to the Game of Thrones stuff — if names like "Westeros" and "Targaryen" don't mean anything to you, you're free to go at this point.
The second season of HBO's medieval fantasy drama won't debut until April, but one persistent rumor that's been floating around suggests the network's already making plans for Seasons 3 and 4. According to "sources," HBO plans to renew the show for two more seasons, which may shoot back to back.
Although the first two seasons have each been based on one book of George R.R. Martin's popular A Song of Ice and Fire series, TV show creators David Benioff and D.B. Weiss have already said that the third book, A Storm of Swords, "will not be a single season. Therefore, if the show really is continuing beyond its next season, it actually makes a lot of sense for the network to pick up two seasons. If you're already familiar with the books, I give you one guess as to where they'll put the break between Seasons 3 and 4... [TV.com]
But first, we have to get through Season 2. Though the show has been shooting since this summer, it's only been in recent weeks that we've been getting good looks at actual images and footage from the new season. Comic Book Movie has posted a few shots of the show's Iceland set, where Kit Harrington is currently running around in his Jon Snow furs. Check it out:
Head over to CBM to see the rest.
Meanwhile, HBO has released this cute little video of the charming Maisie Williams, who plays Arya Stark, explaining some of the cosmetic changes her character's undergone betwen Seasons 1 and 2.
Game of Thrones returns April 2012.