POTD: 'The Time Is Now' For Andy Serkis, 'Rise Of The Planet Of The Apes' And Oscar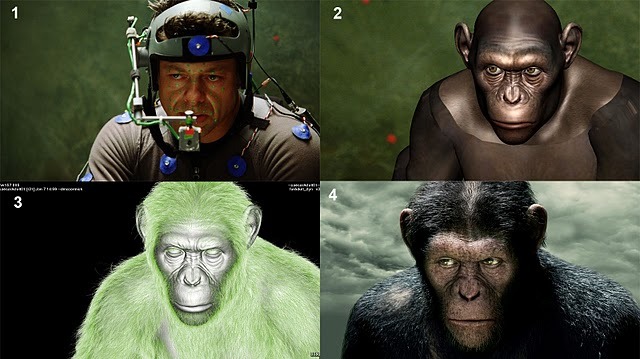 Oscar-campaigning is in full swing and one race many of us are keeping an eye on is Best Supporting Actor. The reason for the scrutiny on that particular category is that 20th Century Fox is pushing for a precedent setting performance capture nomination for Andy Serkis in Rise of the Planet of the Apes.
Serkis, who also worked with the technology in Lord of the Rings, King Kong and the upcoming The Adventures of Tintin and The Hobbit, is absolutely brilliant as Caesar, but you never see him on screen. Even so, the whole film hinges on his non-verbal performance. Building the film around him obviously worked, as Rise of the Planet of the Apes grossed almost $500 million world wide.
Ads are now popping up all over trade magazines and websites that state "The Time is Now" for the Oscars to recognize performance capture with a photo of Serkis' face and that of the CGI Caesar. Do you agree? Check out the add after the jump.
Here's just one of the many versions of the Oscar ad Fox is running for Rise of the Planet of the Apes: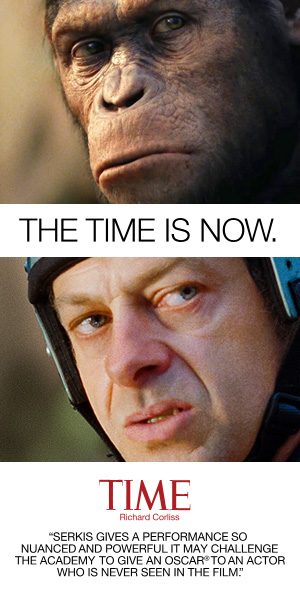 With the technology advancing the way it is, I think it's inevitable that Oscar will eventually recognize performance capture either alongside, or independently of, 'normal' acting. For me, the main hiccup is the fact that, while the actor provides an incredible amount of data, hundreds of people act as an intermediate between what happens on set and what we see on screen. If Andy Serkis wins an Oscar for playing Caesar, how much of that does he owe to Weta? Maybe performance capture deserves its own acting category in the years to come.
Do you think this ad campaign is going to pay off? Will the Academy nominate an actor who is never seen on screen? Will this usher in a new respect for the technology? Do you think this type of performance deserves it's own category? The questions are endless and I expect answers from you now.