'John Carter' Trailer - 'Wall-E' Director Andrew Stanton Goes Back To Outer Space, This Time With Tim Riggins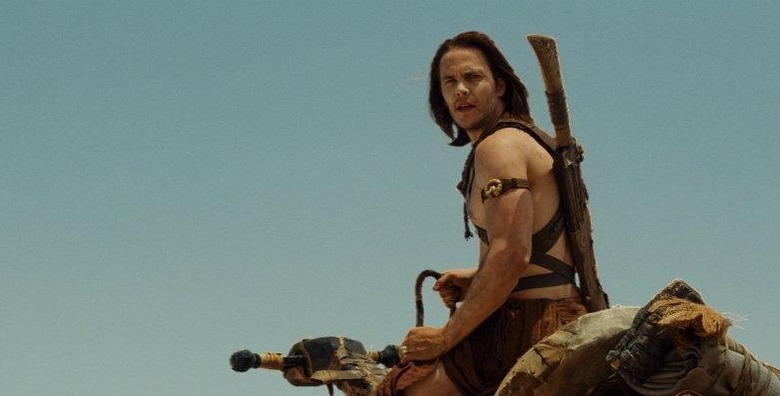 We got our first glimpse of the new trailer for Disney's John Carter on Good Morning America several hours ago, but as promised, we now have a much better version to show you. And by "better," I don't just mean higher-quality, but also longer, somewhat more interesting, and a little more promising. Check it out after the jump.
I wasn't blown away by that first trailer, and this morning's preview of this new trailer didn't impress me much either. So I'm surprised and pleased to find that I like this longer trailer more, though it's possible that the anticipation just has me feeling more generous. We get a great look at the scope and beauty of this world in this video, and there's no denying that it all looks very pretty. On the other hand, star Taylor Kitsch still doesn't appear to have anything terribly interesting to do, and the dialogue is still painfully generic. What did you think?
Directed by Andrew Stanton (Wall-E) from a book by Edgar Rice Burroughs and starring Kitsch, Lynn Collins, Samantha Morton, Mark Strong, Ciaran Hinds, Dominic West, James Purefoy, Daryl Sabara, Polly Walker, Bryan Cranston, Thomas Hayden Church, and Willem Dafoe, John Carter opens March 9, 2012.
Synopsis:
From Academy Award®–winning filmmaker Andrew Stanton comes John Carter—a sweeping action-adventure set on the mysterious and exotic planet of Barsoom (Mars). John Carter is based on a classic novel by Edgar Rice Burroughs, whose highly imaginative adventures served as inspiration for many filmmakers, both past and present. The film tells the story of war-weary, former military captain John Carter (Taylor Kitsch), who is inexplicably transported to Mars where he becomes reluctantly embroiled in a conflict of epic proportions amongst the inhabitants of the planet, including Tars Tarkas (Willem Dafoe) and the captivating Princess Dejah Thoris (Lynn Collins). In a world on the brink of collapse, Carter rediscovers his humanity when he realizes that the survival of Barsoom and its people rests in his hands.