'Wrong' Teaser Trailer: The Director Of 'Rubber' Is Back, With Something Just As Strange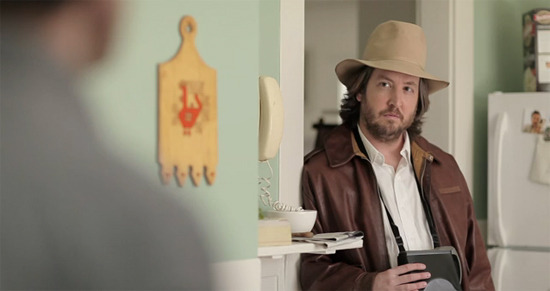 By now many of you have had ample opportunity to check out Rubber, the movie from Quentin Dupieux that hit last year. Yeah, the one about the sentient tire that develops psychic powers and uses them to blow the heads off animals and people. I liked Rubber a lot — thought it was funny and entertaining in a simple, almost too-self aware way — and have been looking forward to his next movie.
Dupieux has been at work on a relatively secretive follow-up, called Wrong. The movie is in the Sundance 2012 lineup, as announced not long ago, competing in the World Cinema program. To go along with that formal announcement, here's the teaser trailer for Wrong.
I'll be honest: just going off this footage I have no idea what the hell is going on in this movie. But it has William Fichtner sporting facial scars and something like a rattail; Steve Little (Eastbound and Down) looking like a perfectly slouchy detective, and Jack Plotnick, the Accountant from Rubber, in perhaps a central role. Check it out below.
WRONG (sundance teaser) from oizo mr on Vimeo.
After watching that a couple times, and taking in the visuals and music that are both obviously Dupieux's work (his music career is under the name Mr. Oizo, and is worth some attention) you can read the official synopsis below. I don't think it's going to clear things up much, but just for the sake of completion:
WRONG / France (Director and screenwriter: Quentin Dupieux) — Dolph searches for his lost dog, but through encounters with a nympho pizza-delivery girl, a jogging neighbor seeking the absolute, and a mysterious righter of wrongs, he may eventually lose his mind... and his identity. Cast: Jack Plotnick, Eric Judor, Alexis Dziena, Steve Little, William Fichtner.