Christian Bale Won't Be Darren Aronofsky's 'Noah;' Michael Fassbender Next In Line?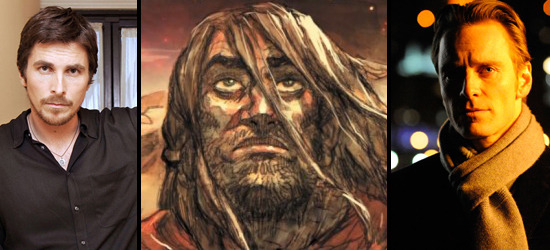 Here's the trade-off for two new Terrence Malick movies going into production with Christian Bale in 2012: the actor now won't have time to star in Darren Aronofsky's Noah. Bale was never officially cast, but we've known since this summer that he was the actor Darren Aronofsky really wanted to lead the cast of his big event-film retelling of the biblical story.
With Bale set to do two Malick films in 2012, however, he's well out of the running for Noah. There is a very good second choice on the horizon, however: Michael Fassbender, who despite being one of the most wanted actors around right now, has a relatively open schedule for 2012.
Deadline was first up with the news that Bale wouldn't be able to do Noah, but Variety brings a lot more info to the table, including the possible casting of Fassbender.
The trade says that Fassbender hasn't been offered the role at this point, but that he's talked about it with Aronofsky. Fassbender also happens to have a relatively open schedule, as he's only locked down a role in Steve McQueen's Twelve Years a Slave at this point. He was going to shoot Londongrad early next year. That one is delayed, however, with Fox calling director Rupert Wyatt back to get a Planet of the Apes sequel going as quickly as possible. Producers of Londongrad are going to wait for Wyatt to free up again rather than finding a different director.
So: Fassbender could end up going from Magneto to NC-17 sex addict to classic Biblical character, all within the span of a couple years. Aren't the movies wonderful?
Noah was without a backer for some time, but New Regency agreed to finance it in part, and then Paramount signed on to complete the financing and distribution package. The studio likes Noah because it is both a tentpole and a film with global story recognition. Even though I suspect that what Darren Aronofsky will deliver is a version of Noah's story that won't be quite what some people are used to.
Aronofsky said of the film earlier this year,
"I don't think it's a very religious story... I think it's a great fable that's part of so many different religions and spiritual practices. I just think it's a great story that's never been on film." ... "He's a dark, complicated character. The tragedies we perform on each other are so well reported. Quite clearly, the planet is dying, and we are dying on it."
You can get a look at some designs for the movie via pages from the graphic novel treatment of the script, which has already been published in Europe.