Watch THR's Hour-Long Interview With 2011's Award-Worthy Actresses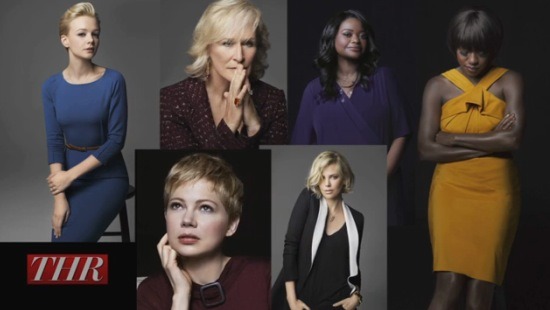 Every year during awards season, The Hollywood Reporter somehow organizes the schedules of basically every single actor, actress, writer and director of the year's best films to sit down and discuss them. This, in itself, is pretty spectacular. What's even better is they release the videos of the full conversations so we can watch. For the 2011 Actress' Roundtable, they've brought together Glenn Close of Albert Nobbs, Charlize Theron of Young Adult, Carey Mulligan of Shame, Michelle Williams of My Week With Marilyn and Viola Davis and Octavia Spencer of The Help to discuss their own, and each others', performances, all of which have a good shot at multiple award nominations. Check out the video after the jump.
Thanks to The Hollywood Reporter for this awesome video.
We also just posted the director's roundtable, which you can watch here and the actors here. As for the actresses, if you don't want to watch the whole thing, you can head over to this link and see clips of the above discussion.
Besides Meryl Streep and Rooney Mara not being part of this roundtable, it seems to me that The Hollywood Reporter has a pretty good grasp on this category. I still feel like The Help is going to be one of the most celebrated films of the year and Theron and Williams are becoming perennial contenders. Not to mention their performances are fantastic. I have yet to see Shame or Albert Nobbs but, it's hard to argue with the upcoming Mulligan or legendary Close.
Do you think the five Best Actress nominees will come solely out of this group? Are there were any obvious omissions besides Mara and Streep?