Rumor: Taylor Swift, Lea Michele, Scarlett Johansson, Evan Rachel Wood Vying For 'Les Miserables'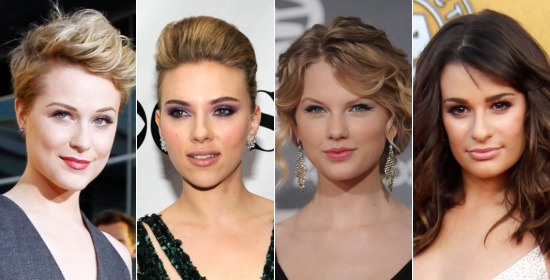 The cast of Tom Hooper's Les Miserables is already plenty star-studded, with Hugh Jackman, Russell Crowe, Anne Hathaway, and up-and-comer Eddie Redmayne all signed on at present — but as anyone familiar with the book or stage musical can attest, that still leaves several juicy roles remaining to be filled.
One of the most notable is the part of Éponine, perhaps best remembered for her big solo number "On My Own," but that could change soon. According to a new rumor, Scarlett Johansson, Evan Rachel Wood, Lea Michele, and Taylor Swift are competing for the role, though a decision has yet to be made. More details after the jump.
A different source reports that Michele "knocked it out of the park" in her audition, which shouldn't surprise anyone who remembers her singing "On My Own" in the very first episode of Glee. (Interestingly, Michele has also played the role of Young Cosette in the Broadway musical, though that's neither here nor there.) However, Michele's casting is far from a lock — the same source also noted that the powers that be are impressed with Johansson's acting and singing talents, and intrigued by Wood's "indie cred."
Both Michele and Wood strike me as good picks for the part, since both actresses have done well with musicals in the past (Michele on Broadway and in Glee, Wood in Across the Universe). While I'm a little less sold on Johansson's abilities on both fronts, there's no denying that she's a huge star, and the casting folks are clearly interested in snagging high-profile talent for the project. Swift, however, seems like a very strange choice. True, she's a big name and a great singer, but she's yet to prove herself as an actress. She only has two movie roles under her belt at this point — Valentine's Day, and the upcoming The Lorax, for which she did voice work.
Of course, another very real possibility is that all of this will turn out to have been nothing more than a rumor. Anonymous folks talking to the NYP aren't exactly the most reliable of sources. But at least three out of the four seem plausible, so we'll be keeping an eye on the casting as it continues. In the meantime, here's a video of Michele singing "On My Own" at an HRC dinner.