TV Bits: Josh Lucas And Tricia Helfer In 'The Firm' Trailers; Premiere Dates For 'Eastbound & Down', 'Life's Too Short', And 'Luck'; 'Pan Am' Not Cancelled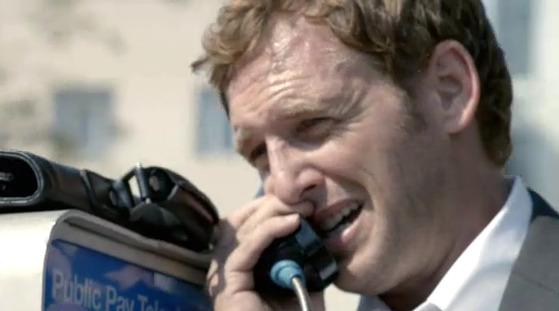 Today's TV Bits offers a few things to look forward to in the not-too-distant future, including imperiled lawyers, a**hole baseball players, pretty flight attendants, and a touch of dry British humor. After the jump:
NBC drops two teasers for its legal thriller The Firm
HBO announces premiere dates for Eastbound & Down and Life's Too Short
ABC confirms that Pan Am is not cancelled
The new series picks up ten years after the events of the first film, as McDeere and his family come out of hiding after spending a decade Witness Protection Program — only to find that, as McDeere puts it in the trailer, "it's happening again." C'mon, Mitch! Did you seriously think the mob would just forgive and forget so quickly?
Also starring Molly Parker, Callum Keith Rennie, and Juliette Lewis, The Firm bows Sunday, January 8 at 9/8c on NBC. [via The Playlist]
Bored to Death ended its third season this week, and Boardwalk Empire's Season 2 finale is less than two weeks away, but TV lovers needn't let their HBO subscriptions go to waste between December and April's Game of Thrones premiere. The network has just announced early 2012 premiere dates for returning favorite Eastbound & Down, as well as highly anticipated newcomers Life's Too Short and Luck.
We've already reported that Luck, the new horse-racing drama by Deadwood creator David Milch, will sneak in a bit early with a preview showing of the first episode following the Boardwalk Empire finale on December 11. Now we also know that the proper start to the season will hit January 29. Michael Mann directs the pilot, which stars Dustin Hoffman and Nick Nolte.
Comedy fans, meanwhile, will get their moment on February 19, which will see the start of the third and final season of the Danny McBride-starring baseball comedy Eastbound & Down. Also premiering that day is Life's Too Short, which stars Harry Potter actor and little person Warwick Davis as a fictionalized version of himself trying to get his career back on track. The six-episode series comes from Stephen Merchant and Ricky Gervais, and will guest star Johnny Depp, Helena Bonham Carter, and Liam Neeson among others. Watch a clip from the show, which has already debuted in the U.K., below.
It may seem weird for us to go out of our way to inform you that a show has not been cancelled, but in the case of ABC's Pan Am there's apparently been some confusion. Earlier this week, star Karine Vanasse tweeted "Well, we received THE call, #PanAm is only coming back for one more episode after Christmas. But up to the end, we'll give it our all!" Fans naturally assumed that spelled the end for the retro airline drama, which got off to a decent start in the ratings with its pilot but has been pulling disappointing numbers ever since.
However, ABC quickly clarified that the show had not been cancelled, and that it wouldn't decide until May whether it wants to renew Pan Am for a second season. The series will shoot and air a total of 14 episodes this season, including the 13 full episodes it was originally slated for and one of the five additional scripts the network ordered later on. The other four episodes will probably not shoot this season, according to a source at ABC.
For her part, Vanasse corrected her earlier statement, tweeting "Sorry for the confusion #PanAm fans; there are still 5 new episodes to air until February
" After that point, freshman series GCB will be filling Pan Am's Sundays 10 PM timeslot, with a premiere scheduled for Sunday, March 4. [TV Line, TV OverMind]